About Us
History
The history of the "American Shangri-La," as Sun Valley is sometimes referred, is not too different from the magical village of legend. It all began in 1935, when Count Felix Schaffgotsch, under the hire of Union Pacific Railroad chairman Averell Harriman, set out in search of the perfect spot for a grand American resort.
The count spent months searching the mountains of the west and surveying many areas that would later become famous resorts, but none of them met his strict criteria.
Feeling defeated and ready to abandon the search, the Count was preparing to wire Harriman the bad news when he heard locals talking about Ketchum, an old mining town in central Idaho. The Count postponed his return home and set out for the Ketchum area.
Upon reaching the Ketchum valley, Count Felix Schaffgotsch was overwhelmed by the area and wired his employer, saying: "This combines more delightful features than any place I have ever seen in Switzerland, Austria or the U.S. for a winter resort."
The Count's enthusiasm spread to Harriman, who rushed to join the Count, and within days purchased 4,300 acres of what was soon to become Sun Valley.
Harriman was determined to build Sun Valley into a resort worthy of its breathtaking and majestic setting. "It is not enough to build a hotel and then mark with flags and signs the things you propose to do in time to come." Harriman said. "When you get to Sun Valley, your eyes should pop open. There isn't a single thing that I could wish for that hasn't been provided." Part of what he "wished for" included a timeless lodge complete with glass-enclosed pools, haute cuisine, impeccable service and nightly orchestra performances.
After just seven months of construction, Sun Valley opened to the public in the winter of 1936. The resort was an instant success. Local wildlife was seen sharing the mountain with European nobility and Hollywood royalty. Clark Gable, Errol Flynn, Claudette Colbert, Bing Crosby and Gary Cooper were all regulars in the lodge, while world champions including Don and Gretchen Fraser, Gracie Carter Lindley and Andy Hennig used the mountain for Olympic training.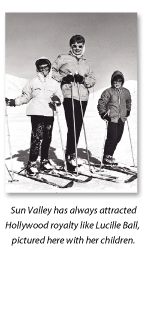 In 1977, Sun Valley joined the Little America family, under the ownership of R. Earl Holding. Since then, Holding has redefined the standard of elegance and excellence subscribed to by Harriman. He has lavishly refurbished the Sun Valley Lodge and Sun Valley Inn, from the stairs and halls to the guest rooms and made profound improvements to the mountain amenities. But Holding's greatest accomplishment is Baldy's "triple crown."
"Baldy," says Holding, "is a regal mountain and it is only fitting that she wear a crown radiant with three precious jewels." Those jewels are Baldy's three distinctive and award-winning day-lodge facilities: the Warm Springs Lodge, Seattle Ridge Lodge and River Run Lodge.
Unlike the Shangri-La of legend, Sun Valley welcomes visitors back year after year. The tradition of beauty and service, "roughing it in style" as Harriman called it, has become the tradition for families across the globe. So, don't be surprised if you catch a glimpse of a world champion as you carve your way down Bald Mountain. And just nod if you hear a familiar voice telling tall tales at the local watering hole. It's all part of the magic and mystique that has made Sun Valley the American Shangri-La.
Facts
Sun Valley Resort Fact Sheet
Sun Valley Resort
1 Sun Valley Road
P.O. Box 10
Sun Valley, ID 83353
800-786-8259
www.sunvalley.com
Fax: 208-622-2100

Opening Day: December 21, 1936
Sun Valley Resort is America's first destination resort, originated in 1936 by Union Pacific Railroad. It is located in the Northern Rockies region of south central Idaho and is open year-round with four distinctly beautiful seasons.
There are more outdoor recreations here than any other destination resort in the U.S.
Accommodations:
The Sun Valley Village Resort sleeps 1,200 with a total of 485 rooms.
Sun Valley Lodge: 148
Sun Valley Inn: 105
Apartments, Cottages and Condominiums: 232
Mountain Statistics
BALDY & DOLLAR MOUNTAINS
Ski Season: Thanksgiving Day – Mid-April
Hours: 9 am – 4 pm
SUN VALLEY TOTALS
Sun Valley Lifts: 19
Gondola 1
Quads: 9
Triples: 4
Doubles: 2
Surface: 3
Total Lift Capacity Per Hour: 29,717
(More lift capacity per skier per hour than any other ski area)
Average Skier Day: 2,900
Skiable Acreage: 2,054
Longest Run: 3 miles
Total Runs: 80
Super Pipe (22 ft. high)
Steepest Run: Inhibition (70% or 35 degrees)
Slope Rating:
36% Easiest
42% More Difficult
22% Most Difficult
Snowmaking Acreage: 645
Total # of Snow Guns: 535
Groomable Acreage: 810
Percentage of groomable terrain with snowmaking: 78%
Sunshine: 120 days out of 150-day ski season or 80%
BALD MOUNTAIN
Summit Elevation: 9150 ft.
Vertical Feet: 3400 ft.
Vertical Rise: 19,714 ft.
Lifts: 12
Runs: 66
Lift Capacity: 23,680/hour
Day Lodges:
River Run Day Lodge
Warm Springs Day Lodge
Seattle Ridge Day Lodge
Lookout Restaurant
Roundhouse
Sun Valley Snowsports School: 240 Instructors
DOLLAR MOUNTAIN
Summit Elevation: 6,638 ft.
Vertical Feet: 628 ft.
Vertical Rise: 976 ft.
Lifts: 6
Runs: 14
Lift Capacity: 6,037

Day Lodge: Carol's Dollar Mountain Lodge
New Terrain Park -3 parks, two cross courses, 76 rails
Superpipe: Old Bowl (620 ft. long, 22 ft. high)
SUN VALLEY NORDIC AND SNOWSHOE CENTER
40K or 25 miles of meticulously groomed tracks for classical, skate skiing and ski touring.
Snowshoe Trails: 14K
Ski and Snowshoe rental, accessories, wax room
Clinics and private instruction

WINTER RECREATION
Swimming & Soaking: Two glass enclosed heated pools, one jacuzzi
Spa: Day Spa and full service salon
Ice Skating & Hockey: One outdoor rink, one indoor rink
APRES SKI
Entertainment: Boiler Room, Duchin Lounge, Bald Mountain base lodges.
Dancing: Jazz musicians perform nightly for dancing in the Duchin Lounge 
Movies: First run movies nightly in The Opera House. Free viewings of "Sun Valley Serenade" play continuously in guest rooms.

SUMMER RECREATION
Golf: Sun Valley Golf Resort Courses – 45 holes
18-hole Robert Trent Jones, Jr. designed Trail Creek Course
New 9-Hole White Clouds Course designed by Knott & Linn
New Elkhorn Golf Club
Tennis: 17 courts, full service pro shop & expert instruction
Ice Skating: Indoor and outdoor rinks, skating school, hockey
World Class Ice shows every Saturday night featuring Olympic & world champion figure skaters
Swimming: 3 heated outdoor pools, 1 jacuzzi, 1 children's pool
Gun Club: Trap and skeet fields, Double Trap, Wobble Trap, Duck Tower, 5-Stand, Sporting Clays, professional instruction
Horseback riding: Sun Valley Horsemen's Center
Gondola & Chairlift rides: Access to Baldy's summit, biking & hiking trails
Fly Fishing
Rafting: Whitewater trips on Main Salmon River, Middle Fork of the Salmon river and others.
Bowling Alley: Six Lanes – SV Lodge basement
Paddle boating, Horseshoes, Volleyball: Sun Valley Lake
Sun Valley Playschool: Available Year-round

RESTAURANTS & LOUNGES
13 Restaurants including 6 Mountain lodges
4 Lounges: The Duchin Lounge, The Inn Lobby Lounge, Warm Springs Day Lodge and River Run Day Lodge

SHOPPING
Sun Valley Village: 12 village shops

SUMMER CALENDAR
Major events include Sun Valley Pavilion Entertainment, the Sun Valley Wine Auction, Arts And Craft Show, the Sun Valley Summer Symphony, Saturday night Sun Valley Summer Ice Shows, Swing 'N' Dixie Jazz Jamboree, Car Auction, Writer's Conference, Danny Thompson Memorial Golf Tournament.

MEETING & BANQUET FACILITIES
The newly renovated Sun Valley Inn Convention Center totals more than 12,000 sq. ft. and is as grand in interior décor as it is impressive in its concealed state of the art technological function. Meeting rooms have extensive telecommunications and audio-visual backbone cabling systems which allow for numerous telephone, data, video, and audio distribution via fiber optics, data rated twisted pair 802.11b wireless and coax. High-speed internet access is achieved through RJ45 twisted pair connectivity, fiber optic cabling along with 802.11b wireless Ethernet. This access also can be configured to allow for virtual LAN networking between meeting rooms within the hotel. In addition an in-house, resort-wide fiber optic backbone can accommodate all possible data and video distribution needs as well as direct fiber connections from carrier circuits to all meeting rooms.
Total Meeting Rooms: 18
Largest Capacity: Seats 1,100 theatre style
Total Meeting Space: 28,500 square feet

OWNERSHIP
Sun Valley Resort is privately owned by the R. Earl Holding family, owners of Sinclair Oil Corporation. Sister properties include Snowbasin Ski Resort, Grand America Hotel, Little America Hotel and Towers, all SLC, UT., Westgate Hotel, San Diego, CA, Little America Flagstaff, AZ, Little America, WY, and Little America, Cheyenne, WY.

MANAGEMENT
Director of Resorts & Resort Development: Wallace Huffman
General Manager: Tim Silva
Director of Hotels: Dick Andersen
Director Marketing & PR: Jack Sibbach
Director of Sales: Brent Gillette
Manager of Mountain Operations: Peter Stearns
Sister Properties
The Grand America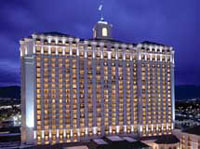 The Grand America Hotel is conveniently located on 10 acres in the heart of downtown Salt Lake City, just 10 minutes from the Salt Lake International Airport. Inspired by the world's grand hotels of the past, The Grand America Hotel has the allure of Old World craftsmanship, charm and hospitality, with every modern convenience at your fingertips. Designed to be a European "boutique" hotel of American scale, The Grand America is abundant in exquisite details: chandeliers from Murano and Milan, French cherry- wood furniture, English wool carpets, Italian marble bathrooms, as well as state-of-the-art high-speed internet connections, 32-inch televisions and dual-line phones in every room. Visit The Grand America website
Snowbasin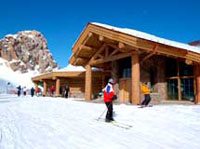 Home to the Winter Olympics 2002 Downhill, Snowbasin offers nonstop skiing on a daily basis with runs for various skill levels. Located just 40 minutes from Salt Lake International Airport, Snowbasin is a must for any dedicated skier. Experience 3,200 acres of skiable terrain and a 3,400 foot total vertical drop. Snowboarders are welcome as well. Contact the Concierge for information concerning Ski Packages. Visit the Snowbasin website
The Little America Hotel & Towers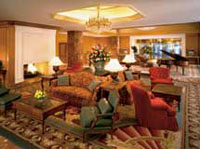 Together with The Grand America, The Little America Hotel is your gateway to downtown Salt Lake City. Enjoy the comforts of this four-diamond 850-room hotel conveniently located across from the Grand America and just minutes from the city's main business district, cultural hub and sports center. Book an exclusive tower room or an exquisitely appointed guest room furnished with Italian-style baths, a work desk, two line phones and plush terry robes.
Visit the Little America Hotel and Towers website
The Westgate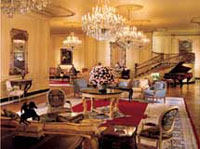 The Westgate Hotel is conveniently located in the heart of downtown San Diego, facing the Horton Plaza Shopping Mall, one block from the Gaslamp Quarter and across from the Civic Center. European furnishings, paintings and appointments grace public areas and guest rooms. With 223 deluxe rooms, a fitness and spa center, and California and French fine-dining in the award winning Le Fontainebleau restaurant, The Westgate Hotel is the perfect place to call home when visiting Southern California.
Visit The Westgate website
The Little America - Flagstaff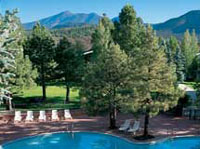 Exceptional accommodations, service and hospitality are yours at Flagstaff Little America. Located on 500 acres of ponderosa pine forest, Flagstaff offers awe-inspiring sightseeing and recreational opportunities to the Grand Canyon, Sedona, Sunset Craters, and the Arizona Snowbowl every season of the year. Flagstaff features 248 luxurious guest rooms, designed with floor to ceiling windows, imported marble and spacious baths and dressing areas.
Visit The Little America - Flagstaff website
The Little America - Wyoming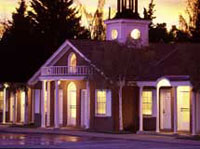 Do not miss the opportunity to stay at the original Little America Travel Center located on Interstate 80, 300 miles west of Cheyenne. Little America Wyoming boasts 140 guest rooms and suites, a personable staff and is still a welcome haven for all travelers.
Visit The Little America - Wyoming website
The Little America - Cheyenne
Visit an 80-acre oasis of luxury service, surrounded by beautifully groomed grounds and a nine-hole executive golf course. Cheyenne's Little America boasts 188 guest rooms, complete with 31" TVs, cozy goose down pillows, built-in refrigerators, hair dryers, irons and ironing boards and coffeemakers. Take a break from your hectic schedule with a refreshing dip in the Olympic-sized swimming pool.
Visit The Little America - Cheyenne website
Partners
Alaska Air

Alaska Airlines, proudly offers daily, nonstop service from Los Angeles and Seattle to Sun Valley, ID (some service seasonal). To book online visit alaskaair.com.
BLM - Twin Fals District

The BLM manages nearly 12 million acres of public lands in Idaho, nearly one-fourth of the state's total land area. Four BLM district offices, 12 field offices, and the Idaho State Office administer the public lands in Idaho with a mission of sustaining the health, diversity and productivity of the public lands for the use and enjoyment of present and future generations. Resources on the public lands include recreation, rangelands, timber, minerals, water, fish and wildlife, wilderness, air and soils, and scenic, scientific, and cultural values. For more information visit BLM - Twin Falls District.
Cox Communications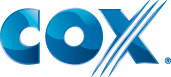 Sun Valley Resort's preferred high speed Internet provider is Cox Communications. Cox Communications, a Fortune 500 company, is a multi-service broadband communications and entertainment company with more than 5.9 million residential and commercial customers. Cox Communications' vision statement reflects a desire to be the best company to work for and do business with, while improving the quality of life in the communities they serve. For more information visit  cox.com.
Sawtooth National Forest

The Sawtooth National Forest is a very special place here in the heart of Idaho. We hope you will take the time to learn about this "working/producing" National Forest. Managing and protecting your land is most challenging - not only because of the vastness of this land, but because of the varied, and sometimes conflicting, interests and values that you the owners of this land hold near and dear. For more information visit  Sawtooth National Forest.
SkyWest Airlines

Skywest, a Delta connection carrier, provides daily, nonstop service from Salt Lake City, UT to Sun Valley, ID. For a full listing of Sun Valley arrivals and departures check our flight schedule. For scheduling from this major hub and other major U.S. cities visit skywest.com.
United Airlines
Alaska Airlines, proudly offers daily, nonstop service from San Francisco to Sun Valley, ID (some service seasonal). To book online visit united.com.
Visit Sun Valley

The official Sun Valley Chamber and Visitors Bureau travel guide helps you book vacation packages or lodging, and explore restaurants, shopping, and local activities. For more information visit www.visitsunvalley.com.
Photography & Videography
Tal Roberts Photography- www.talroberts.com
Kevin Syms Photography - www.kevinsyms.com
John Plummer Broadcast Video - (208) 481-0708
Environmental Awareness
Sun Valley Resort has long been a responsible steward of its spectacular natural setting. The majority of Sun Valley's lodging facilities were developed in the 1930's and have been curated with a keen eye toward quality and sustainability. The resort continues to steward both its significant private lands and, in conjunction with the BLM and USFS, the federal lands under lease. After an extensive sustainability assessment in recent years, the resort is systematically incorporating environmental concerns into its operation.

The most recent demonstration of this pledge is the construction  of a new high performance, Green design Laundry. This new, high efficiency, state-of-the-art 21,500 sq. ft. facility was sited to minimize transportation to resort facilities and lessen the resort's carbon footprint.

The laundry equipment installed throughout the facility includes a large capacity "tunnel washer" that recycles water five times through five cycles, saving 75 percent of the amount of water compared to standard commercial water systems. Previously, it took three gallons of water for every pound of linens washed, now only one-half gallon of water is required for one lb. of linen. The system also has the ability to wash three times the  laundry capacity that the resort now handles. This water recycling and savings also has a significant soap and chemical savings with substantially less effluent discharge.

On a broader scale, Sun Valley Resort has received an "A" for its environmental stewardship by the Ski Area Citizen's Coalition. The resort was rated in nearly 40 environmental criteria including habitat protection, preserving environmentally sensitive areas, protecting watersheds, water conservation,  addressing global climate change, renewable energy, transportation, environmental policies and policy positions, waste stream management, purchasing and environmental reporting and accountability.
Some highlights include:

*Partnering with the USFS, Ketchum Ranger District, to protect Bald Mountain trees from Douglas Fir bark beetle attacks by application of MCH (pheromone) flakes and pouches.

*Expansion of our recycling program resulting in over 31% of all waste recycled in the past year, up from 27% the previous year. This program diverted 480 tons of waste from the landfill.

*In room recycling is now in its third year, recycling customer use products by donating these goods, shampoos, lotions, and bath gels to low income and homeless people of Idaho  through the Community Action Partnership Association of Idaho; 1,200 pounds of sundries have been donated.

*Adoption of a composting program resulted in 125.6 tons of kitchen and lawn waste composted.

*91,182 kWh are being saved annually through lighting retrofits in four of our largest maintenance facilities. An additional 691,003 kWh in annual savings are close behind.

*Partnering with the National Forest Foundation in the Ski Conservation Fund, a program designed to raise money for the care of surrounding national forest lands.

Sun Valley Resort continues to commit to the intelligent integration of sustainability concepts and practices into the organizational culture and operating practices of the resort.
Sun Valley Lodge Renovation
Historic Lodge Will Feature Larger Guest Rooms, Luxury Amenities and a Full Service Spa
Sun Valley Resort is excited to announce plans to enhance the Sun Valley Lodge, originally constructed in 1936 as America's first destination ski resort. The project will refurbish guest rooms as well as update the lobby, restaurant and other guest amenities. Some of the smallest rooms will be combined to create suites with fireplaces and expanded bathrooms with large showers, baths and vanity areas.
The lobby will be enhanced to provide space for more gathering and visiting while enjoying the views of the terrace, ice skating and the ski mountain. With these improvements, the utmost care will be taken to maintain the character and essence of this magnificent historic building that was originally designed by Stanley Underwood in 1935. For nearly 80 years the Sun Valley Lodge has been recognized as an icon of architecture, hospitality, comfort and entertainment. As the pictures in its hallways display, it has been a place where movie stars, dignitaries and other celebrities come together with kids, families, locals and visitors of all walks of life throughout the world to enjoy the beauty and recreation that Sun Valley has to offer.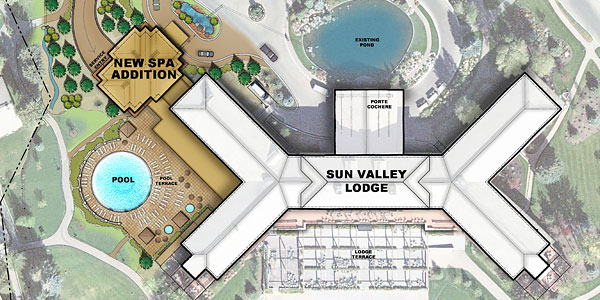 An adjoining 20,000 square foot full service spa and salon will also be constructed, offering resort guests and the local community access to a wealth of relaxing treatments, health and wellness activities, salon services and more. The spa will be built to harmoniously interact with the beautiful Lodge pool and the spectacular views of Baldy. It will include 15 private treatment rooms for both individuals and couples, large locker rooms with steam and sauna facilities, relaxation lounges, a yoga studio and a large fitness facility with the most up to date aerobic and strengthening equipment. The Sun Valley Spa will add a new dimension and attraction for the entire community.

"There are few more enduring icons of quality and hospitality in the world than the Sun Valley Lodge." said Carol Holding, resort owner for the last 37 years with her late husband Earl. "Our family has loved Sun Valley for over three decades. We have always tried to make it better while maintaining the personal and intimate feeling that makes it so special. We want to keep the wonderful feeling of the Lodge while at the same time providing the modern comforts and conveniences that our guests expect, fitting the Lodge for the next 75 years of fun in the sun."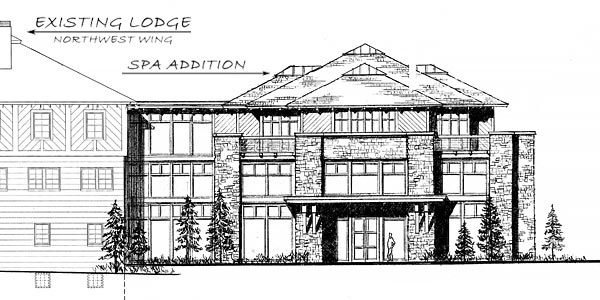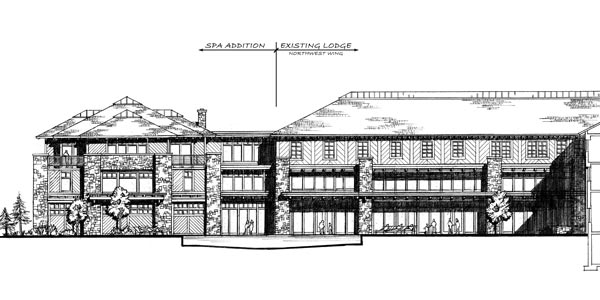 Sun Valley has retained the Boston design firm of Frank Nicholson Inc and local architects Ruscitto, Latham, Blanton to oversee the project. Having worked together for over two decades for the Holdings in Sun Valley, this design team is very familiar with the needs and character of the resort. Their prior projects include: River Run Lodge 1994, the Sun Valley Inn and Ballroom expansion 2003, Carol's Dollar Mountain Lodge 2004, the Sun Valley Lodge improvements in 1996 & 2004 and the Sun Valley Pavilion 2008.

"Construction of the spa is scheduled to begin in April 2014, with the full Lodge renovation to follow in September," said Tim Silva, Sun Valley's General Manager. "We anticipate completing both projects by June 2015. We are pleased that during construction the Sun Valley Inn, cottages and condominiums as well as restaurants, retail shops and entertainment venues will be fully operational to accommodate Sun Valley's guests."
FAQ About the Renovation
What specifically is being done to the Lodge?
This will be one of the most extensive renovations ever done, and will include the following:
• All guest rooms will be upgraded and refurbished, and many combined to create larger rooms (king and double-queen suites).
• All bathrooms will be enlarged & modernized, with plumbing upgraded throughout.
• The public areas (i.e., Lobby, Gretchen's, Duchin) will be refurbished to make them brighter and more welcoming.
Will the style and interior design of the Lodge change with the renovation?
The style will not change, but the Lodge will feel fresher and more refined. At this point we cannot offer details with regard to specific design elements in the public areas, but the final "look' will still be traditional, cozy and warm.
Will the historical aspects of the Lodge be maintained?
Absolutely. Mrs. Holding is personally overseeing the designs for the Lodge renovation, and no one is more committed to the traditions and history of Sun Valley than she is. The integrity and character of the Lodge will be maintained, while the necessary upgrades are implemented in order to enhance the guest experience.
What will the new Spa look like?
We will greatly expand and move our existing salon, spa and fitness facilities into a new and separate 20,000 square foot building adjacent to the Lodge, and into a first floor extension of the northwest Lodge wing along the pool. The main entrance and reception for the spa will be in the new building, which will also contain our salon, treatment rooms, and, on the top floor, a few guest suites. Some of the spa facilities will be housed in the adjacent wing of the Lodge. The spa will also be accessible from the first floor of the Lodge.
Will the Lodge exterior change at all?
The exterior of the Lodge will remain the same. There will be a one story addition to the pool side of the northwest wing of the Lodge.
For how long will the Sun Valley Lodge be closed?
For approximately 9 months, beginning after Labor Day, and until the beginning of June 2015.
How will the construction project affect Christmas celebrations in the village?
Our Christmas festivities will be as marvelous as usual, including the Christmas Eve Nutcracker on Ice, the Torchlight parade, Tree Lighting, Holiday Window Stroll, etc. The only change is that the LDR will be closed, and the Christmas dinners traditionally served there will be hosted at the Clubhouse. The Konditorei, the Ram, Trail Creek Cabin, the Roundhouse will also welcome guests for special holiday dining experiences.
Will the ice rink still be available continuously during the construction? Will Ice Shows and dinner buffets still be held this summer?
Yes. We will have a great Ice Show line-up for this summer, and will continue to serve our popular ice show dinner buffet on the Lodge Terrace.
Will the Lodge and new Spa Building be energy efficient?
As with all recent construction on the Sun Valley property, the Lodge renovation and new spa building will be designed in an environmentally conscious way, and with a view towards achieving increased energy efficiencies and water savings.
Energy & Atmosphere
Complies with or exceeds minimums of the 2009 International Building Code for energy performance.
New exterior wall insulation throughout building.
New high efficiency or refurbished mechanical systems.
HVAC systems controlled to provide efficient heating and cooling.
New thermally insulated Low-E windows.
Large roof overhangs to minimize solar heat gain.
Trellis elements provide additional shading.
Awnings and shading systems installed to prevent heat gain or loss.
New high efficiency fan coil units.
New energy efficient high performance LED light fixtures.
Automatic, stepped lighting controls to utilize daylighting.
Dimming on interior light fixtures.
Exterior building & pathway lighting will be automatically controlled with timers/sensors.
Light bollard fixtures on emergency circuits at egress pathways.
Air economizers on all air handlers.
Heat recovery on all restroom and toilet exhaust air.
Variable speed drives on all fan and pump motors.
Ventilation sensors to control the fresh demand.
90+% condensing boiler for building heating versus 80%.
Variable flow kitchen hood.
Phase 1 lighting (interior) exceeds code (IECC) by 32%
Indoor Environmental Quality
High indoor air quality controls.
Noise control and mitigation for enhanced Indoor Environmental Quality.
Variable air volume air handler systems in all public areas.
Materials & Resources
Recycling of existing furnishings, carpet and light fixtures.
New long life wool carpeting.
Natural stone tile, countertops and flooring utilized whenever possible.
No and Low VOC interior and exterior paints.
Durable interior and exterior materials for a long lifespan.
High tensile reinforcing steel and high strength concrete to reduce material usage.
Sustainable Sites
Recycled landscape bedding materials.
High efficiency multi staged cooling tower for mechanical cooling.
Water Efficiency
Swimming pool surfactant to reduce heat loss.
Reduction in swimming pool size to reduce heating and chemical usage.
Reduced water use throughout building (including new swimming pool).
Low flow water efficient plumbing fixtures at guest rooms, spa, and public spaces.
90+% condensing hot water heaters versus 80%.
Domestic hot water pre-heaters from the chiller condensing water.
Smart Location & Linkage
Multi-modal transportation availability to project site.
What pool will guest of the Lodge be using during the renovation?
Sun Valley Lodge guests are welcome to use the Sun Valley Inn pool now and the Olympic pool starting May 30.
Where has the Sun Valley Beauty Salon and Spa been relocated?
The Beauty Salon and Spa is now open behind the Post Office on the east side of Sun Valley Village.
Can I place a reservation for a room in the newly renovated Lodge?
If you are interested in making a reservation in the Lodge for June, 2015 or beyond please contact our Reservations Department by phone (888) 786-8259. Online reservations and descriptions for the new Lodge rooms will be available in the near future.