A Game of Golf on Cloud Nine
When standing atop the White Clouds, your eye captures a 360-degree wrap-around view of the Wood River Valley encompassing Bald Mountain, Dollar Mountain, the Pioneer Mountains, Angel's Perch, Devil's Bedstead and the home of Ernest Hemingway. Approaching the 5th tee box, golfers first notice Sun Valley Resort owner's words inscribed in a stone marker, "This is not all about golf."
These few words commemorate his vision when he dedicated this 135-acre parcel of priceless ridge top for Sun Valley Resort's newest nine holes.
The White Clouds at once becomes a mysterious challenge full of intrigue and complements the Trail Creek Course by presenting contrasting play with more sand trap shots, side-hill lies, risk reward and blind shots.
9 Holes
3,605 Yards
Par 36
Hole 7 - Par 3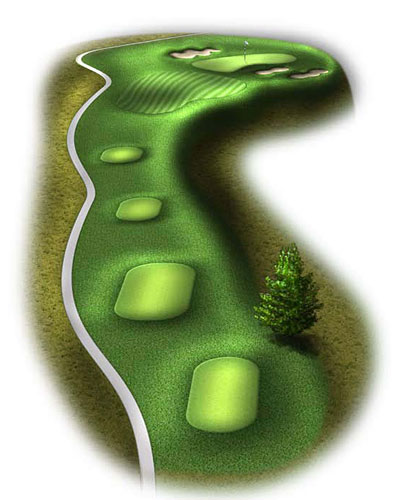 Yardage
Pro
220
Championship
187
Middle
146
Resort
114
Handicap
4

---

Forward
114
Handicap
NA
Pro Tips
Take a few moments to enjoy the views from the highest set of tees in the valley. The wind is the hardest thing to judge on this hole in order to hit this small bean shaped green. Commit to the shot, but know short and right on this hole is dead.
Golf Scorecards Inc. © 2010, 800.238.7267
Sun Valley Club
Phone: 208-622-2251
Email: golf@sunvalley.com