Weddings
The perfect beginning to your "Happily Ever After."
Whether you envision your special day as a quiet retreat in the mountains, or a celebration as spectacular as the setting, Sun Valley's wedding services can help bring your dream wedding to life. We offer a number of wonderful locations both indoors and out that add an unmistakable natural beauty to your occasion.
From private weddings for two to parties of 500, we can can coordinate and cater your special event. And whether you need a few ideas or just need someone to bring your vision to life, Sun Valley's attentive expert staff is waiting to make your special day an unforgettable occasion.


Wedding & Special Event Information
Wedding & Special Events Coordinator:
Megan Gergen
208.622.2101
weddings@sunvalley.com
 
Trail Creek Cabin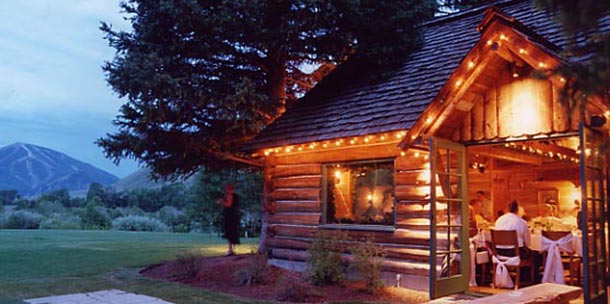 Constructed in 1937, Trail Creek Cabin couples the cozy atmosphere of the early West with the warmth and glow of a Nordic Ski Lodge. Historic mountain décor, rock fireplaces and a panoramic window offering a picture-perfect view of Bald Mountain, all add to the warmth and charm of the Cabin.
Wintertime is a special season at Trail Creek. With glowing fireplaces, hot drinks and hearty, comforting food, your only regret will be you can't spend the night! Guests can enhance their Trail Creek experience with a round-trip horse-drawn sleigh or wagon ride with a real cowboy at the reins!
During the warmer months, the Cabin Meadow (directly adjacent to the Cabin) is available for outdoor dining and activities.
Availability
Trail Creek Cabin is available to rent year 'round on Sundays for parties, weddings or banquets.
Rental Fee
The rental fee for Trail Creek Cabin is $5,000.00 plus 9% sales tax, and includes use of the Cabin, the Cabin Meadow, existing tables, chairs, the deck, restrooms, and parking area.*
Seating Capacity
Trail Creek Cabin can accommodate groups of 64 people. Tables may be combined in various configurations to accommodate more guests per table.
* 25% of the event's total anticipated revenue is due at the time the reservation is made as a nonrefundable deposit. Reservations are not guaranteed until the deposit is received. Rental Fee Pricing valid through December 31, 2014.
Sun Valley Company venues and facilities may be reserved for wedding ceremonies and receptions within 12 months of the date you wish to reserve. Prior to 12 months, names are added to a waiting list on a first come first serve basis.