A Skier´s Mountain Comparable To None
If you're looking for the world's best ski mountain, you just may have found it  in Baldy.
What makes up a perfect ski day? First a mountain with perfect pitch, consistent vertical from its 9,150 ft. peak down to the  5,750 ft. base. No flats, no plateaus - all downhill on a variety of slopes rated to your liking and ability.
There's a place for crowds but it's not on a pristine ski slope. Sun Valley's lift capacity is 29,717 skiers/riders per hour and the average skier day is only 3,000. Lift service is waiting on you - you're not waiting in long lines.
Sun Valley was aptly named because its brilliant sun shines 80 percent of the ski season in an azur blue sky. After all, it was "winter sports under a summer sun" that put Sun Valley on the map nearly 75 years ago.
And since that time, Sun Valley has continued adding mountain amenities to take the winter  vacation to all new heights. New on the scene is the Roundhouse Gondola and launching of the new  Dollar Mountain Terrain Park - soon to be another world class act in Sun Valley.
Bald Mountain Facts
Bald Mountain can be accessed at River Run on the south and Warm Springs on the north. During the winter, finely appointed day lodges, a total of 12 lifts, including the new Roundhouse Gondola and 66 varied runs await on either side of the mountain. Bald Mountain's seemingly endless runs stretch 2,054 acres to the edges of the Sawtooth National Forest and slide another 3,400 vertical feet, top to bottom. During the summer, the world famous mountain is open to sightseers and adventurers, whether you want a relaxing day among the wildflowers, or a challenging journey through the rugged beauty of Idaho's wilderness. Baldy, as it is affectionately called, offers nearly 28 miles of hiking and biking  trails. Feel free to tackle the trails yourself, or take along one of our expert guides to point out all the little things that make the Bald Mountain experience so unique.
Location: 1-1/2 Miles West of the Sun Valley Village
Phone: 800-635-4150
River Run
The River Run area of Bald Mountain is full of slopes covering all ranges of abilities. The most difficult runs, Olympic and Exhibition, are countered by an easier Olympic Ridge and Olympic Lane. From the top, intermediate skiers can choose Cutoff or Blue Grouse to Mid River Run to get back to the River Run Lift. From there it is a nine-minute lift ride back to the top. Advanced skiers can tackle Rock Garden, Exhibition or Upper Holiday runs for moguls galore. Snow Tubing Park featuring a 1 lane serpentine course located on River Run Base area behind Pete Lanes Retail Shop.
Seattle Ridge
Seattle Ridge Lodge overlooks all runs designated as slow skiing areas with the exception of the difficult Firetrail. Seattle Ridge runs are well groomed and served by the Seattle Ridge chairlift, a five minute ride from the bottom of the ridge back to the top.
The Bowls
The Bowls along the top of Bald Mountain range in difficulty from easiest (Broadway Face) to most difficult (Little Easter Bowl). Intermediate skiers can begin at the left of the mountain and move to the right as they feel more comfortable. The Bowls are easily served by the Mayday chairlift, a seven minute ride back to the top.
Warm Springs
Warm Springs, named for the warm bubbling water at the base of the lift, is a great area of the mountain for the intermediate skier who needs a little more time to move on to the advanced stage. Filled with more difficult runs, Warm Springs glows in the afternoon sunshine. The top of the area is home to Warm Springs Face and most difficult runs International and Limelight. Halfway down, skiers can decide which of the more difficult runs they want to venture on ranging from Brick's Island to Cozy.
Roundhouse Express Gondola
Opened for Sun Valley's 74th ski season in 2009-10. The Roundhouse Express Gondola travels from River Run Plaza to the Roundhouse Restaurant area.  From there, skiers and snowboarders can jump on the Christmas detachable quad for access to the top of Baldy.
The new state-of-the-art Doppelmayr CTEC Detachable-Grip Gondola has 56 eight-passenger cars and carries 1800 passengers per hour, traveling 2,000 vertical feet in eight minutes.
For questions and information about Roundhouse Restaurant please call 208-622-2800.
Dollar Mountain Facts
From riding the world's first chairlift in 1936 to riding 76 new rails, and a new 22 ft. super pipe, Dollar Mountain is quickly evolving into "Park Central,"  the best pipe and park offering in the Northwest.
Also awaiting skiers/riders this winter will be a lengthened Family Cross Course, a competitive cross course and three parks, progression, medium and large.
This treeless, sun-bathed warm and friendly mountain also plays host to Sun Valley's renowned Snowsports School catering to the needs of beginning skiers/riders with 10 runs, 628 ft. vertical rise and five lifts, including two new high speed quads.
And there's more: a new restaurant and childrens' center, Carol's Dollar Mountain Lodge, kids ski camps, ski shop and rental shop, a springtime pond skim, lots of parties and races and the little-known Elkhorn powder stash.
Currently there are 5 lifts on Dollar Mountain: 2 Quads, 1 Triple, 1 Double and 1 Magic Carpet.

Location: 1/3 Mile South from Sun Valley Lodge
Phone: 208-622-2289
Mountain Lodges
"Baldy," says resort owner Earl Holding, "is a regal mountain and it is only fitting that she wear a crown radiant with three precious jewels." Those jewels are Baldy's three distinctive and award-winning day-lodge facilities: the Warm Springs Lodge, Seattle Ridge Lodge and River Run Lodge.
In keeping with this level of excellence is Sun Valley's newest day lodge situated at the bottom of Dollar Mountain, Carol's Dollar Mountain Lodge.
River Run Day Lodge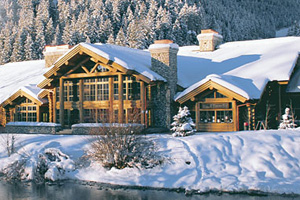 River Run Plaza at the base of Baldy creates a mini-village full of skier friendly services and amenities. Pete Lane's has all of your equipment needs covered ? rental, storage and tuning. The Brass Ranch offers smashing ski wear and all of the accessories. You can begin your day at River Run Lodge with a full breakfast and then stop back by for a delicious slope-side lunch. A bountiful salad bar, wok station, a fresh deli counter and oven-fired pizza await. River Run Lodge also sports a full bar and après ski entertainment on Saturday & Sunday afternoons.
Warm Springs Day Lodge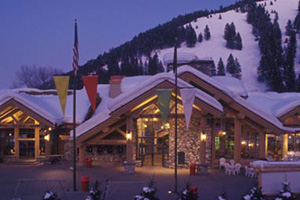 At the base of Bald Mountain on the Warm Springs side you will find the Warm Springs Lodge, open for breakfast, lunch and après ski. The food servery features one of Idaho's famous potato bars, wood-fired pizza, gourmet salads and fresh pasta. And, later on, the sunny deck warms up for après ski entertainment
Seattle Ridge Day lodge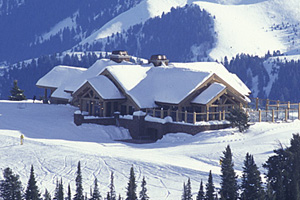 Perched atop the Seattle Ridge area of Baldy, the Seattle Ridge Lodge sets at an elevation of 8800 feet. With spectacular views of the Wood River valley and the surrounding mountain ranges, this spot on Baldy is a must see. Serving lunch, fare includes mesquite grilled entrees, wood-fired pizza, pastas, soups and gourmet salads.
Carol's Dollar Mountain Lodge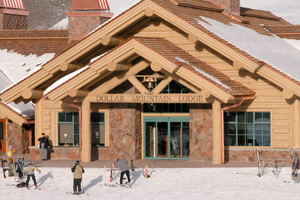 Sun Valley's newest mountain lodge was created with children in mind. But the beautiful European décor and the scrumptious menu attracts skiers and non-skiers of all ages. Located at the base of Dollar Mountain, the lodge is an easy walk from Sun Valley village, giving guests who don't ski an enjoyable 1/3-of-a-mile walk and a delicious lunch, either inside or on the sunny and heated deck. Breakfast and lunch are served daily during the winter season.
Adventure Trails
Red Tail Hawk (Upper & Lower)
Warm Springs Adventure Trail
Green
The Red Tail Hawk trails are named after this prodigious bird of prey, indigenous to the Bald Mountain area and prolific hunters on the slopes of the mountain, year-round.
The trails meander through the lightly wooded area on the skiers left of the Lower Warm Springs ski run. The Red Tail Hawks are presented as great experiences for Kids who are proficient skiers on Lower Warm Springs and would like to try trail skiing.
Huckleberry Bear
Olympic Ridge Triangle Adventure Trail
Green
The Huckleberry Bear Adventure Trail is named after the Black Bears often seen wandering in the vicinity of the Olympic Ridge ski run, mostly during the summer months. The Black Bear gains its whimsical 'Huckleberry' name after what is likely one of his delicacies, the Huckleberry, Idaho's state fruit.
The trail laces through a lightly wooded stand of trees over the distance of about 200 feet, exiting to the skiers left of the Olympic Ridge ski run. Huckleberry Bear offers a wooded yet relatively open treed experience for the young explorer.
Foxy Forest
Upper Can-Can Triangle Adventure Trail
Blue
The Foxy Forest trail offers an extended trail experience for the more accomplished young skier/rider. Named 'Foxy' referring to the Red Fox, indigenous to this particular part of Bald Mountain…
A foxy adventure is sure to be had as young skiers/riders descend a serpentine path through a lightly forested area adjacent to the Upper Can Can Ski Run. The Foxy adventurer can expect to experience an exciting and fun filled tour.
The Flume
Au Jus Canyon Adventure Trail
Black
The Flume adventure trail offers an exciting and fun filled descent through a natural 'flume-like' path, a 'swale', naturally carved into the terrain. The Flume trail reminds us of the rich mining history of the Wood River Valley during the late 1800's. The trail is named after the Guyer Hot Springs Flume, a man-made trough that carried timber from Warm Springs logging sites to Frenchman's, stoking the furnaces in the Philadelphia Smelter at the confluence of the Big Wood River and Warm Springs Creek.
The Flume adventure is for the most accomplished rider/skiers, and offers the excitement of a flume ride as it twists and turns, descending into Frenchman's.
The Red-Headed Wood Pecker
Green
Christin's Silver Adventure Trail
The Red-Headed Wood Pecker trail is a fun and exciting tour though a large stand of Lodge Pole Pines, the beautiful habitat of the Pileated Woodpecker, a majestic creature indigenous to Bald Mountain. Standing more than 24 inches tall, this incredible bird ushers the young adventurer through a winding path with a distinct forested feel.
The Red-Headed Woodpecker trail is a great way for kids to explore our wooded mountain areas and maybe see a Red-Headed Woodpecker or two.
Mountain Tours
Whatever you do, don't miss this opportunity to take part in Sun Valley's free tours of Bald Mountain. Guests (with a valid lift ticket) should meet in the Mt. View Room at River Run Day Lodge at 11 am sharp, any day of the week for a 1 1/2 –hour tour. Skiers and boarders, youngsters and adult intermediates are all invited to participate in this informative, fun and educational adventure. Learn the five main areas of Baldy, how to ski the mountain, how some of the runs got their names and a get a concise history of Sun Valley.

Your guide will be Sun Valley's Director of Skiing Allan Patzer. He looks forward to acquainting you with this world famous mountain.