A Skier´s Mountain Comparable To None
If you're looking for the world's best ski mountain, you just may have found it  in Baldy.
What makes up a perfect ski day? First a mountain with perfect pitch, consistent vertical from its 9,150 ft. peak down to the  5,750 ft. base. No flats, no plateaus - all downhill on a variety of slopes rated to your liking and ability.
There's a place for crowds but it's not on a pristine ski slope. Sun Valley's lift capacity is 29,717 skiers/riders per hour and the average skier day is only 3,000. Lift service is waiting on you - you're not waiting in long lines.
Sun Valley was aptly named because its brilliant sun shines 80 percent of the ski season in an azur blue sky. After all, it was "winter sports under a summer sun" that put Sun Valley on the map nearly 75 years ago.
And since that time, Sun Valley has continued adding mountain amenities to take the winter  vacation to all new heights. New on the scene is the Roundhouse Gondola and launching of the new  Dollar Mountain Terrain Park - soon to be another world class act in Sun Valley.
Mountain Lodges
"Baldy," says resort owner Earl Holding, "is a regal mountain and it is only fitting that she wear a crown radiant with three precious jewels." Those jewels are Baldy's three distinctive and award-winning day-lodge facilities: the Warm Springs Lodge, Seattle Ridge Lodge and River Run Lodge.
In keeping with this level of excellence is Sun Valley's newest day lodge situated at the bottom of Dollar Mountain, Carol's Dollar Mountain Lodge.
River Run Day Lodge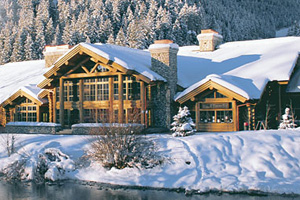 River Run Plaza at the base of Baldy creates a mini-village full of skier friendly services and amenities. Pete Lane's has all of your equipment needs covered ? rental, storage and tuning. The Brass Ranch offers smashing ski wear and all of the accessories. You can begin your day at River Run Lodge with a full breakfast and then stop back by for a delicious slope-side lunch. A bountiful salad bar, wok station, a fresh deli counter and oven-fired pizza await. River Run Lodge also sports a full bar and après ski entertainment on Saturday & Sunday afternoons.
Warm Springs Day Lodge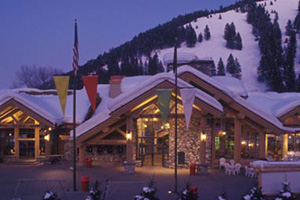 At the base of Bald Mountain on the Warm Springs side you will find the Warm Springs Lodge, open for breakfast, lunch and après ski. The food servery features one of Idaho's famous potato bars, wood-fired pizza, gourmet salads and fresh pasta. And, later on, the sunny deck warms up for après ski entertainment
Seattle Ridge Day lodge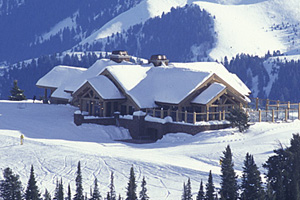 Perched atop the Seattle Ridge area of Baldy, the Seattle Ridge Lodge sets at an elevation of 8800 feet. With spectacular views of the Wood River valley and the surrounding mountain ranges, this spot on Baldy is a must see. Serving lunch, fare includes mesquite grilled entrees, wood-fired pizza, pastas, soups and gourmet salads.
Carol's Dollar Mountain Lodge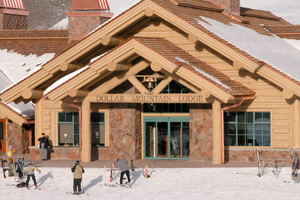 Sun Valley's newest mountain lodge was created with children in mind. But the beautiful European décor and the scrumptious menu attracts skiers and non-skiers of all ages. Located at the base of Dollar Mountain, the lodge is an easy walk from Sun Valley village, giving guests who don't ski an enjoyable 1/3-of-a-mile walk and a delicious lunch, either inside or on the sunny and heated deck. Breakfast and lunch are served daily during the winter season.