Mountain Safety
Here you will be provided with information to help you enjoy your Sun Valley Resort vacation safely while maximizing fun on the mountain. Remember to always ski and ride within your ability and be aware of the skiers/riders around you. To find out more about ways to stay safe click on any of the tabs below.
Helmet - It's a Smart Idea.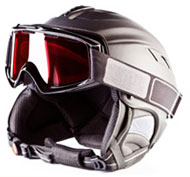 NSAA promotes the use of helmets on the slopes. We urge skiers and riders to wear a helmet – but to ski or ride as if they are not wearing a helmet. NSAA views skiing and snowboarding in a controlled and responsible manner – not helmets only – as the primary safety consideration for all skiers and boarders. A skier's behavior has as much or more to do with the safety of the sport as does any piece of equipment.
In 2002, Lids on Kids www.lidsonkids.org debuted as a resource for consumers to learn about helmet use in skiing and snowboarding. This site contains FAQs about helmet use, fit and sizing information, general slope safety information, related articles and games, and testimonials about helmet use from well-known athletes, including US Ski Team members.