Sun Valley's Spring Sun Fest Schedule
Whether you're a Dollar or Baldy skier/rider, or even a non-skier, Sun Valley Resort invites you to celebrate the winter season with a Spring Sun Fest at the base of both mountains. The fun begins Saturday and Sunday, April 7-8th on Dollar Mountain then moves to Baldy on Sunday, April 15th.
Lookout Cookout
Enjoy fresh grilled sandwiches and beverages under the sun Thursday through Sunday outside at Lookout Lodge.
Monday, April, 2nd
Value Season lift ticket pricing in effect
For more information please call Sun Valley Lift Ticketing at 800.894.9931 or e-mail lifttickets@sunvalley.com
Sunday, April, 15th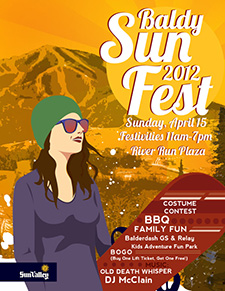 Baldy Spring Sun Fest - Bald Mountain
Ski both sides of Baldy top to bottom - races, great deals, music & bar-b-que.
• Buy one get one free lift tickets.
• Kid's adventures in the Adventure Parks
• 12 pm - DJ McClain at River Run
• Balderdash fun races - 2 pm: Firehose Slalom, Foot Race (in ski/snowboard boots), Tubing Run to the finish.
• 3 pm - Music by Old Death Whisperer
• "Last Run" retail pricing at Pete Lane's and Brass Ranch
• Live music at Warm Springs Lodge
Bald Mountain concludes its 2011-12 Winter Season at the end of the day.
For more information check the calendar of events