A Taste of Sun Valley
From the valley floor to the top of Baldy, dining adventures abound in Sun Valley. You'll find every type of cuisine from family friendly to some of the Northwest's finest dining.
Stay connected - Sun Valley Resort Dining on Facebook fan page

Dinner and a Movie
Sun Valley restaurant guests can enjoy a FREE movie after dining at the following Sun Valley restaurants: Bald Mountain Pizza, Trail Creek Cabin, The Ram. Konditorei, and The Lodge Dining Room. Movie passes will be available to each diner for a movie on the same evening. Please ask your server for more information. Offer not good for special movie presentations.
Village Dining
KONDITOREI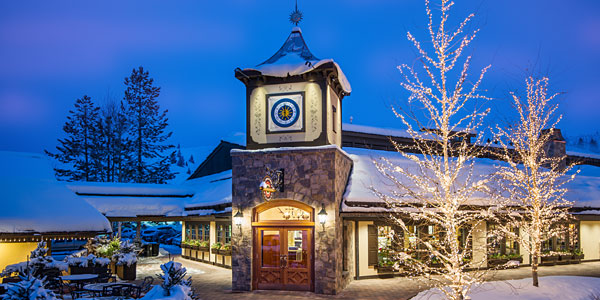 A Sun Valley tradition gets reimagined for a new era under the masterful hands of Executive Chef John Murcko. The first restaurant at Sun Valley Resort to receive the Murcko treatment, the new Konditorei offers a fresh take on the classic alpine café experience for breakfast and lunch.
Lunch dishes range from pumpkin spatzle with sausage and apples to roasted chicken crepes with spinach and spicy Liptauer cheese. To satisfy sweet tooth cravings or just to warm up on a chilly day, the café offers a full complement of artisanal coffee and hot chocolate drinks, plus house-baked European pastries. At any hour, the Konditorei maintains the heritage of Sun Valley with Austrian-influenced décor in a quaint, bustling café atmosphere.




Konditorei Menu
Please call 208-622-2235 or e-mail restaurantreservations@sunvalley.com for more information.
TRAIL CREEK CABIN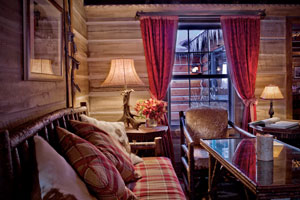 A romantic hideaway since 1937, Trail Creek Cabin is a must Sun Valley dining adventure. Sleighs depart for the restaurant from the village near the Sun Valley Inn during the ski season, and you may also drive. The purchase of a sleigh ride ticket confirms a reservation for dinner at Trail Creek Cabin. Dinner is additional and is paid for at the cabin. The seasonal menu has a western flare all complimented by a great wine list and a full bar.
Located 1.5 miles east of the Sun Valley Lodge (half a mile past the Sun Valley Club)
Closed for the season. Will reopen Friday, May 24th.

Trail Creek Menu
Please call: 208-622-2019 or reserve on

Contact: restaurantreservations@sunvalley.com
Connect with us on Facebook -Trail Creek Cabin fan page

LODGE DINING ROOM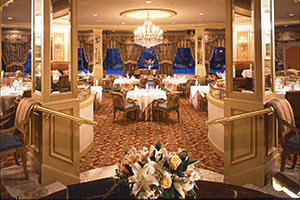 The Lodge Dining Room promises a delectable dining adventure whether you're looking for an elaborate dinner, the chef's three-course tasting for the evening, or simply a selection of appetizers paired with an organic martini, fine Northwest and European wines or beer.
Closed for the summer season.
GRETCHEN'S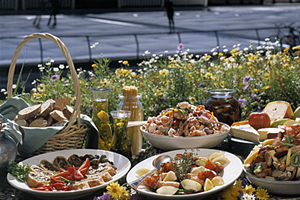 This classic and very comfortable family restaurant located off the Sun Valley Lodge Lobby serves breakfast and lunch daily. Named after Sun Valley's own legendary Gretchen Fraser this restaurant serves homey breakfast fare, specialty salads, great hamburgers and delicious sandwiches.
Located on the first floor of the Sun Valley Lodge
Breakfast Daily: 7 am - 11:30 am
Lunch Daily: 11:30 am - 2:30 pm
Dinner Daily: 5 - 9 pm
Closed from 2:30 - 5 pm

Gretchen's Menu
Please call: 208-622-2144
Contact: restaurantreservations@sunvalley.com
DUCHIN LOUNGE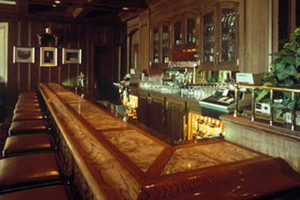 Named for Marjorie Oelrichs Duchin, The Duchin Lounge is located off the Sun Valley Lodge lobby and has always been a favorite spot for socializing and dancing to live apres ski and evening entertainment. Look for seasonal specialty drinks like the Duchin Lounge "HBR" (hot buttered rum), Hot Apple Pie and the Sun Valley Margarita.
Located on the first floor of the Sun Valley Lodge
Closed for remodeling.
Lodge Poolside Service daily from 1 - 8 pm
Happy Hour daily from 4 - 6 pm
$4 Margaritas, $3 draft beer, $2 off all wine by the glass, half-price fries, wings and cesar salad.
The Best Live Jazz in Town
Lounge food menu available daily until 10:00 pm.

Please call: 208-622-2145
SHORT LINE DELI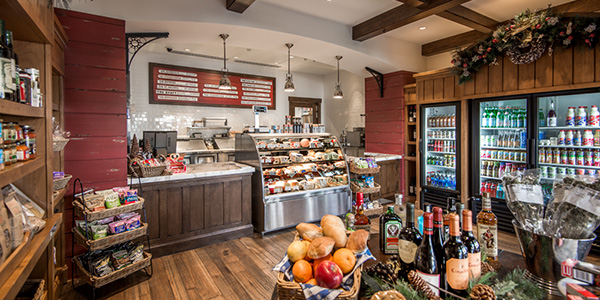 The bounty of Idaho sustainable food products and specialty deli fare from New York have merged at the newly opened Short Line Deli in the Sun Valley Village.The Short Line Deli showcases select smoked salmon from New York, fresh Idaho goat cheese, Borrego Manchego, parma prosciutto and Niman Ranch corned beef – just for starters.

From the Deli case to the sandwich board, over 15 sandwiches can be made to order, such as The Challenger, Italian ham, dry salami, genoa salami, banana peppers, roast red peppers and provolone piled high on a baguette. European waters, sodas, wine and beer also are available.
Located in the Sun Valley Village.

Short Line Deli Menu
Please call: 208-622-2060
A LA MODE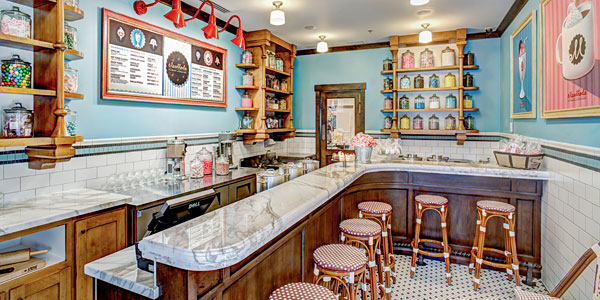 Sun Valley Resort has a new sweet spot serving irresistible gourmet cocoas, sundaes, shakes and sodas. a la Mode is located in the village next door to the Short Line Deli. Once inside this delectable ice cream parlor and cocoa bar, you'll be tempted by 17 specialty cocoas such as the Raspberry Snowball, Sea Salt Caramel, the Orange Dreamsicle, or the Peanut Butter Cup. Sundaes include the Apple Pie, Baldy Fudge, and the Chocolate Chip Napolean. Huckleberry Cream, Chocolate Mountain and Strawberry Fields are just a few of the shakes.
Located in the Sun Valley Village.
Closed for spring. Reopening Friday, June 1st
Please call: 208-622-2243
SUN VALLEY CLUB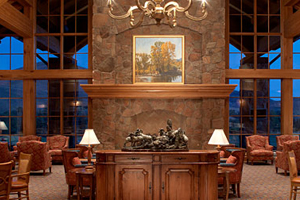 Possibly Sun Valley's most popular lunch spot. The Sun Valley Club is open for guests and the public and doubles as the Sun Valley Nordic and Snowshoe Center in winter. Wrap-around terraces overlooking the 18-hole Sawtooths Putting Course and Trail Creek Golf Course lure guests outside for dining al fresco and cocktails in the summer.  
During the winter, hit the Nordic trails and then enjoy lunch and a hot beverage.  
Inside, the restaurant and bar are surrounded by glass walls and river rock. A lively spot to watch football on four large-screen TV's.
Located one mile east of the Sun Valley Lodge
Open for lunch from 11:00 am - 3:00 pm
Bar open daily from 11:00 am - 5:00 pm


Sun Valley Club Menu
Please call: 208-622-2919
Sun Valley Club Golf Pro-Shop, Tee Times, Year-round Indoor Virtual Golf: (208) 622-2251
Sun Valley Nordic & Snowshoe Center: (208) 622-2250
THE RAM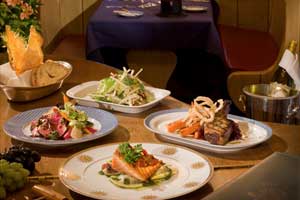 Established in 1937, the Ram has continually offered exceptional European inspired cuisine and provided a cozy setting for intimate Sun Valley dining. During the summer months dining is extended to the Inn terrace overlooking the duck pond.
Located in the Sun Valley Village.
Closed for the season. Will reopen Friday, June 14th.

Ram Menu
Please call: 208-622-2225 or reserve on

Contact: restaurantreservations@sunvalley.com
INN LOBBY LOUNGE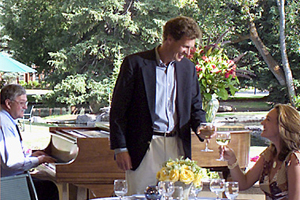 Located just off the Sun Valley Inn Lobby, pass through the Italian marble entry way to find this beautifully appointed lounge. Guests will find a great location to have a light meal with the kids, watch the game, or just relax with a great glass of wine.
Located in the Sun Valley Inn.

Lobby Lounge a la carte Breakfast daily from 7 - 10:30 am

The Lobby Lounge Bar Opens daily at 4 pm and serves food until 10 pm

Lobby Lounge Menu
Please call: 208-622-2266
Contact: restaurantreservations@sunvalley.com
BALD MOUNTAIN PIZZA & PASTA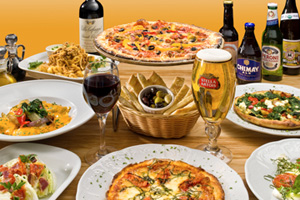 A family friendly restaurant featuring hand-tossed pizza, pasta bowls and salads. Very casual and fun fare for kids. A full take-out menu is available and Bald Mountain Pizza delivers to Sun Valley Resort properties.
Located in the Sun Valley Village.

Bald Mountain Pizza Menu
For Take-Out or Delivery (Sun Valley Resort properties only) call : 208-622-2143
Contact: restaurantreservations@sunvalley.com
Connect with us on Facebook -Bald Mountain Pizza fan page