Stars On Ice And On Stage
Sun Valley Resort's entertainment options are truly unique and include the country's largest free outdoor symphony series, famous Ice Shows, electrifying outdoor concerts at the Sun Valley Pavilion, apres ski Winter Comedy Series - all topped off with late night live Jazz in the famous Sun Valley Lodge Duchin Lounge.

Visit our Calendar of Events for the latest entertainment information.


Sun Valley Pavilion
The Pavilion is one of the most beautiful places in the Wood River Valley to see a concert and the music genres range from full symphony orchestra, to rock n' roll, to country, to pop, to opera.  There will be something for everyone to enjoy.
Pavilion Seating Map


Pavilion Seating Map Expanded

Purchase tickets online or call 208.622.2135 or toll free 888.622.2108.  Concert tickets may also be purchased in person at the Sun Valley Recreation Center Box Office.
2014 Summer Concerts
Opening Night August 3, 2008 - Sun Valley Summer Symphony, Violinist Gil Shaham and commissioned world premiere; puts "Hymn to the Sun"
Located on the lower esplanade of Sun Valley Resort
Designed and engineered by FTL Desgin Engineering Studio of New York
Main Feature: 70-foot high proscenium arch and curved copper-shingled roof
Underground foundation consists of 150 truckloads of concrete
White tensile fabric stretches half of an acre from the arch top to the rear of the seating area.
State of the art advanced LARES-Lexicon sound system
Inspired by the world's greatest concert stages, Pavilion stage is 3,000 square feet
As many as 4,500 people can  attend a concert with seating inside and on the surrounding lawn areas.
The Sun Valley Pavilion front entry includes a water feature with a cascading waterfall and pond
The Symphony Wall of Appreciation is displayed as an expression of thanks and appreciation to donors
Elevator access is available for all three levels of the Pavilion
Mezzanine terraces feature a bar and cocktail area
Extensive planters are used to create an environmental integration with the pavilion architecture
Nearly 1500 specially designed vinyl padded seats fit into the circular radius style of the Pavilion
Tensile fabric attached to the pillars behind the seating to creates an evening glow.
The 4,000 square foot back terrace serves as a social gathering spot before and after performances
Artist dressing rooms are located on the back terrace level
The roof, supported by a unique cable system fabricated in Germany, is flexible and can deflect up to 14 inches under snow load conditions.
Stage accessibility has the capacity to accommodate two semi trucks for loading equipment
The stage is built with massaranduba Brazilian "iron" wood and mahogany paneling on back of the stage and on the acoustic canopy Sun Valley Owner Earl Holding with his family and Sun Valley Symphony supporters funded the Sun Valley Pavilion
The Sun Valley Pavilion on the south western end of the soccer field at the Sun Valley Resort is inspired by its natural setting and destined to become a wonderful gathering place for performance events.
The sky and mountain are captured by the free flowing sensual roof, comprising of a seasonal luminous tensile membrane covering nearly 1500 seats and a permanent steel cable net with a copper roof structure providing cover over stage and support facilities. The surrounding landscape is sculpted into an undulating park gently elevated like a natural amphitheatre, so you are be able see Trail Creek Canyon, Dollar Mountain and Baldy while you relax and enjoy a variety of high-quality entertainment.
The facility is a technological and structural accomplishment. It demonstrates how permanent and seasonal structures can be integrated to offer the best of both worlds: use of wood for acoustic blending and a tensile membrane for luminous reflective space. The ambiance - an interior space and an outdoor room drenched in diffused sunlight. The Sun Valley Summer Symphony hosts its season at the facility along with many other events, each with an intimate relationship to the stage with unobstructed sightlines and excellent sound quality.
Pavilion Venue Agreement 

Pavilion Technical Specifications 

Pavilion Stage Plan 

Pavilion Upper Plan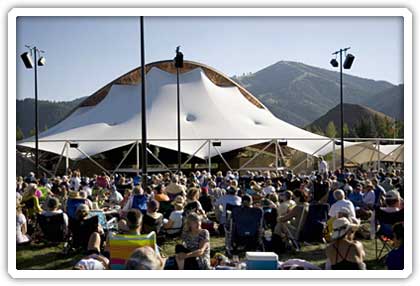 Village Entertainment
TheRam Bar
The Best Live Jazz in Town!  Bring your dancing shoes.
Located in the Sun Valley Inn.

Entertainment schedule subject to change.
Connect with us on Facebook -Sun Valley Apres Ski Page

For more information check out our online calendar of events
Mountain Entertainment
Warm Springs Day Lodge
Entertainment schedule subject to change.
Connect with us on Facebook - Sun Valley Apres Ski Page

Sun Valley Opera House
Situated in the heart of Sun Valley Village, the Opera House was built in 1937 and serves as Sun Valley's charming 320-seat theatre.  Ticket prices: $8.00 for adults, $6.00 for seniors (60 and over) and children (12 and under).
Please call 208.622.2244 for showtimes. 
If you are interested in renting the Sun Valley Opera House for an event, film or concert, please contact Sun Valley Catering 208.622.2020