A Village Full Of Family Fun
Part of the magic of a Sun Valley vacation is every member of the family can discover their own adventure within the safe environs of the Sun Valley Village. While Dad is on the golf course and Mom is at the spa, children create their own vacations under the supervision of the Sun Valley PlaySchool and Day Camp programs. Older youngsters can have fun on their own, meeting new friends and reuniting with  family for dining and entertainment - all within the Sun Valley Village. 
Bowling & Game Room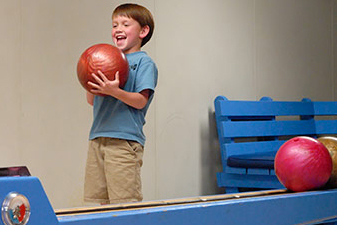 Located in the Sun Valley Lodge, the Bowling Alley and Game Room is open year round. One of the Pacific Northwest's oldest bowling alleys, the 1950's atmosphere features 6 lanes, video games, a Juke Box, pool table and snack bar. Join us for a fun-filled evening.
Private parties can be arranged before 3:00pm by advanced reservations. Call for further information and reservations.
Location: Sun Valley Lodge
Phone: 208-622-2191 or 622-2248
Email: recreation@sunvalley.com
Hours & Rates
 Hours

Closed for Renovation




 
 
 Rates

     Lane per Person

$5.50

     Shoe Rental

$3.00
 
Prices subject to change.