A Village Full Of Family Fun
Part of the magic of a Sun Valley vacation is every member of the family can discover their own adventure within the safe environs of the Sun Valley Village. While Dad is on the golf course and Mom is at the spa, children create their own vacations under the supervision of the Sun Valley PlaySchool and Day Camp programs. Older youngsters can have fun on their own, meeting new friends and reuniting with  family for dining and entertainment - all within the Sun Valley Village. 
Spider Jump Bungee Trampoline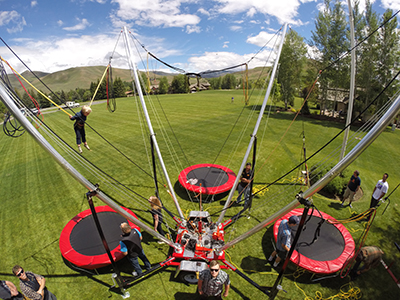 The Spider Jump combines bungee jumping & trampolines. Jump over 20 feet into the air and perform gravity defying maneuvers, like flips and somersaults! A comfortable harness and two bungee cords, attached to 24" foot poles on either side, allow you to perform incredible gymnastic feats. Great family fun and good for all ages. Four people can jump independently at the same time.
Private parties can be arranged before 3:00 pm by advanced reservations. Call for further information and reservations.
Location: Sun Valley Village (Located on the grass next to the Inn Pond).
Phone: 208-622-2191 or 622-2281
Hours & Rates
 Hours

Closed for the season.




 
 
 Peak Rates (July & August)

     4 Minute Session

$9

     4 Pack Punch card

$39
 
 Non-Peak Rates

     4 Minute Session

$8

     4 Pack Punch card

$35
 
 Hourly Rental on SV Property

    

$249
Prices subject to change.