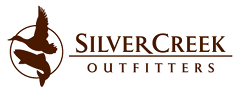 Imagine, Explore, Fish
Sun Valley is surrounded by many of the finest and most breathtaking trout streams in the world. And a stop at Silver Creek Outfitters puts the majesty of these waters at your fingertips. Silver Creek Outfitters, a tradition in the Wood River Valley for more than 45 years, evolved from a small fly shop to the highly respected retailer and outfitter it is today. By providing the best guides in the business, a highly knowledgeable retail staff and the finest gear in the industry, the store creates lifelong memories for fishermen of all abilities and offers an unparalleled customer experience.
Whether you are visiting and want to fish with the best guides in the area, or simply need advice on the latest hatch or a new rod, Silver Creek Outfitters takes care of all of your needs. Additionally, the fly shop supports a travel department that specializes in booking excursions to the best fishing locations on the planet.
A true Sun Valley destination, not just a store, Silver Creek Outfitters also boasts a library complete with the most important fly fishing titles, a beautiful selection of unique gifts and artwork, and clothing and accessories appropriate for a day on the river or a night on the town.
"We invite people in our home here, we want to share our love for this place with you" said Terry Ring, owner of Silver Creek Outfitters. "We realize that customer service is not what we think it is, but what the customer perceives it to be. We continuously strive to provide the highest level of service possible."
This level of personal attention, devotion to detail and tradition are what set Silver Creek Outfitters apart. For more information about the store, to inquire about special events and sales, to see our hatch charts or to subscribe to the weekly Fishing Report, please log onto www.silver-creek.com.
* Silver Creek Outfitters is a third-party partner and not affiliated with the Sun Valley Resort
Location: 500 N Main Street, Ketchum, ID 83340
Phone: 208-726-5282 or 800-732-5687
Store Hours: Hours change seasonally, so please visit our website for our current hours!
Email: info@silver-creek.com
Website: www.silver-creek.com
Guided Fly Fishing
Fly-fishing is a lifelong sport and one that can always be enhanced by the presence and support of a professional guide. Whether you are new to the endeavor, unfamiliar with the area, or simply want to hone your skills or try something new, one of Silver Creek Outfitters' exceptional guides is sure to perfectly match your needs. We boast 30 certified casting instructors (CI) and two master casting instructors (MCI) on staff, accredited by the Federation of Fly Fishers. Both fishing guides and teaching guides are available. The former help you catch fish, the latter help you learn to fish while catching fish.
Silver Creek Outfitters' guides are sure to enrich your entire fishing experience. A guided day on the river is a full-service day of fishing. Our professionals will bring you to the perfect stretch of water, help you manage your equipment, lines and knots, coach you on your casting, mending, stripping and landing techniques and even spread out a wonderful, riverside lunch. We will guarantee the best fishing day possible, surrounded by beauty and hopefully, a lot of fish!
No matter your reason for getting out on the water, our best-in-the-business guides are here for you. Let us unlock the mystique of area waters, advise you on a pattern or offer a refresher course in tying your own flies. We are experts in planning dream adventures. Let us help you create memories and fish tales that will last for years.
Silver Creek Outfitters has 30 certified casting instructors (CI) and two master casting instructors (MCI) on staff accredited by the Federation of Fly Fishers. There are fishing guides and teaching guides. The former help you catch fish, the latter help you learn to fish while catching fish. We train our guides to be teaching guides. Meet our guides!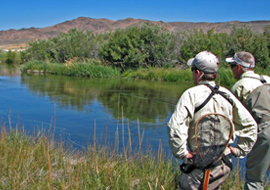 World Famous Silver Creek
Known for large trophy trout and legendary mayfly hatches, Silver Creek is the crown jewel of western spring creeks set against the high Idaho desert. Highlights; browns and rainbows; exhilarating, hard-fighting fish; precise dry fly presentation pristine spring creek just a short 45 minute drive away from Sun Valley.
---
Big Wood Watershed
There is no better place for an angler to learn the art of fly fishing than the Big Wood watershed, a true freestone fishery offering good-sized, wild fish against a beautiful backdrop of aspen, cottonwoods and alpine scenery. Highlights; true freestone fishery; big dry flies; easy access, easy wading; hard-fighting, healthy trout.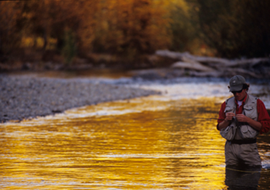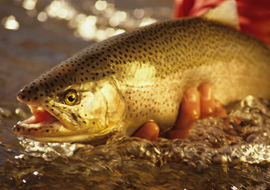 ---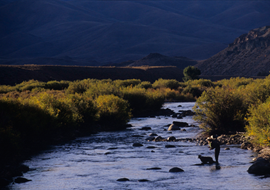 Copper Basin
The Copper Basin area is home to most of the Lost River tributaries and the beginning of the Lost River proper. This remote setting is graced with plenty of fish and miles upon miles of fishable water. Primarily a dry fly fishery, the Copper Basin area is home to our unique "Grand Slam" of fishing. A few anglers are able to catch the entire gamut of fish in this area in a single day. Five species comprise the Copper Basin Slam; Rainbow, Brook, two types of Cutthroat and the Mountain Whitefish. It is a true wilderness experience to travel into this area and anglers are rewarded with spectacular views, loads of wildlife and exceptional fishing opportunities.
---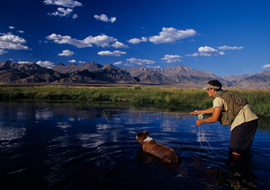 Big Lost Watershed
A gem of a Tail Water within the gem state. The Lost River, near Mackay, can be a great example of big fish in small water. The Lost is a unique fishery for anglers with some experience. Sight nymphing to big rainbows is common, as well as a few strong dry fly opportunities throughout the year. The cool waters released from the dam at Mackay reservoir provide a nutrient rich environment that grows strong rainbows up to 25 inches.
---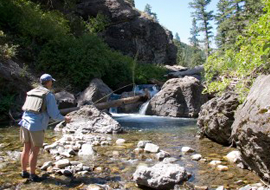 Little Wood River
Perhaps the most overlooked piece of water in our area, the Little Wood offers two distinctly different experiences … a true desert fishery awaits anglers below the confluence with Silver Creek; the upper section involves lightweight rods, where casting skills are challenged by tight turns in the river and stream side willows. Highlights; desert: deeply cut banks; big, wild brown trout; high mountains: tight turns and short runs; wild fish including cutthroat and brookies.
---
River of No Return / Salmon River
Try a new experience! Silver Creek Outfitters has access to more than 60 miles of prime drift boat fishing along the famous Salmon River. A typical day covers 10 to 15 miles of fishing for native cutthroat and rainbow trout. Journey over the hill (Galena Summit) for a day or stay overnight in Stanley at one of several historical lodging options and spend a couple days exploring secluded waters. Walk and wade options are also available.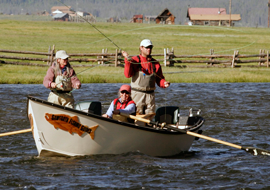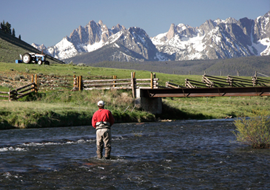 ---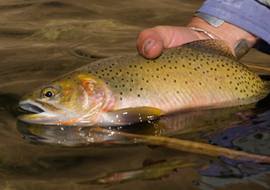 Headwaters of the Middle Fork of the Salmon River
Fish the waters upstream from Dagger Falls to the upper reaches of Bear Valley Creek and Marsh Creek. Anglers have the wonderful opportunity to spend the day hiking, or a few days backpacking along some of Idaho's most pristine waters. Fish for cutthroat trout and view spawning beds of chinook salmon in Idaho's gin-clear waters. This fishery really comes alive during the hottest part of the summer when fish seek out the cooler waters of the high-elevation tributaries.
---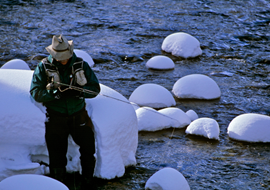 Winter Fishing
The Big Wood River is known as one of the most productive winter fisheries in the western United States, offering anglers dry fly action, as well as nymphing and streamer opportunities. Winter Fishing on the Big Lost or Silver Creek can offer a wonderful change of pace in the winter. Many experienced anglers feel that March is the best fishing of the year.
---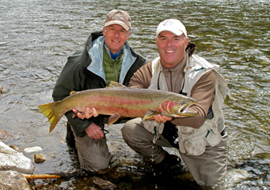 Spring Steelhead
Experience the excitement of spring Steelhead fishing, exploring the waters from Stanley to Challis. After spending time in the water of the Pacific Ocean, growing strong and fat, these hard-fighting fish winter in the deeper water of the lower Salmon River before making their spring migration to the shallow spawning grounds of the upper Salmon River in central Idaho.
Reserve a trip (click to expand)
Please call us with your preferred dates, number in the party and experience level. A $100 deposit is required at the time of booking. We are happy to pick you up at the Lodge or Inn and get you started on an unforgettable trip. For more information, call us at 208-726-5282 or 208-622-5282 or extension 2676 from resort phones. You may also email us at info@silver-creek.com or book your trip online!
What's included
Transportation provided in your guide's vehicle. You are welcome to use your own vehicle if you prefer.
There is a two person per guide limit for trips to Silver Creek.
All flies will be provided by your guide.
Float tubes are included if needed.
Sage graphite fly rod, reel, floating line, wading boots, and Gore-Tex waders are included in Winter, Evening and Spring Steelhead trips. All other guided trips you will need to rent equipment* or you are more than welcome to use your own gear!
* We offer a 20% discount on rentals lasting 5 consecutive days or more.
Recommended Gear
Polarized sunglasses may be the most important piece of equipment an angler takes with them on the water besides a rod and reel. Polarized glasses protect eyes from harsh sunlight, harmful UV rays, and inadvertent casts. Polarized sunglasses, by cutting out more refracted light, allow anglers to see into the water and help anglers to see their flies on or in the water.
A lightweight hat with a bill to shade the eyes and face is a must. Hats protect us from the sun and help shade our eyes for better vision.
Sunscreen is a must - do not forget to put this on! Due to our altitude and the extra light bouncing off the water, the sun's rays are extra strong and harmful. Use SPF 30+ on your face and re-apply as the day goes on. It is also a good idea to use lip balm with SPF for sun and wind protection.
Insect Repellant - Depending on snow pack, temperature, and rainfall, biting insects can vary from year to year, so it is best to be protected when and where you can. Ex-Officio has a strong line of clothing and accessories, "Insect Shield" that helps to repel almost every pesky insect. You can also use basic bug spray to ward off unwanted bites.
Upper Body Wear - Start with a lightweight long sleeve shirt, preferably a quick drying material. Simms, Ex Officio, and Cloudveil make excellent shirts for fishing and other outdoor activities. Be prepared to layer with a sweatshirt or fleece for cool mornings and evenings. Have a rain jacket for occasional summer thunderstorms. Sun gloves are optional.
Lower Body Wear - Quick drying shorts are perfect for wet wading on hot summer days. Quick drying pants also work well and protect legs from the sun and the bushes. Both can be worn comfortably under waders. Anglers fishing Silver Creek will want to wear a fleece pant under their waders throughout the season. Even on the hottest days, anglers float tubing The Creek will get chilled.
Socks - Heavy socks are a must as feet are constantly submerged when fishing. A warm sock will be more comfortable when wet wading as well.
Camera - We highly recommend documenting your adventure. Please remember, you will be in and around water and to be careful with your digital cameras.
Licensed, Insured and Bonded
We operate in partnership with the Bureau of Land Management, and under special use permit from the U.S. Forest Service.
Casting Instruction
Dive in and give it a try! We invite you to take our first cast with us. Sign up for your free casting lesson or clinic. Then follow up with our Introduction to Fly Fishing class and learn all the basic skills you will need to succeed on the river.
Free Casting Clinics
Join a member of the Silver Creek Outfitters guiding team and learn to fly cast, or brush up on that double haul technique. Nightly casting clinics are offered to all who are curious or just a little rusty. Equipment will be provided but feel free to bring your own.
Location: Lawn in front of the Lodge
Hours: 5:30 – 6:30 every Tuesday through Saturday. Starts June 17th runs through Labor Day Weekend
Phone: 208.726.5282
Email: info@silver-creek.com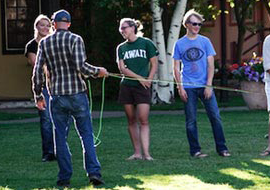 ---
Free One-hour Casting Lessons
Silver Creek Outfitters is committed to the spirit of fly fishing and wants all future anglers to have the opportunity to try casting or to learn new techniques at their convenience. We will extend a free one hour casting lesson to anyone interested in learning the art of fly casting. Team up with one of our certified casting instructors and learn the basics of fly casting or brush up on your roll cast, learn to double haul, or refine your loop - we're up for anything!
Location:
to be selected
Hours:
by appointment
Phone:
208.726.5282
Email:
info@silver-creek.com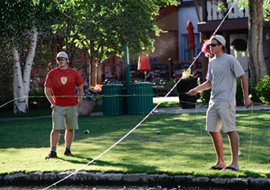 Classes
Dive in and give it a try! We invite you to take our first cast with us. Sign up for our free casting lesson. Then follow up up with one of our classes and learn all the basic skills you need to succeed on the river.

Private Spey Casting Lesson
Looking to expand your horizons and learn a new casting technique? Join our guides for a private spey casting lesson. So grab your buddy and hit the stream, you're sure to return a better fisherman. Steelhead season awaits...
Phone:
208.726.5282
Email:
info@silver-creek.com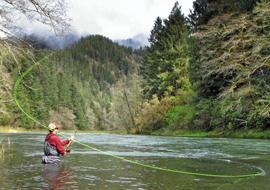 ---
Ready for Silver Creek?
The transition from the Big Wood River to Silver Creek may be easier than you think To get started there are just a handful of skill/knowledge elements needed - you may already have some:
Float Tubing: Cast in comfort
Dead Drifts: Produced with downstream slack line casts and a reach mend.
Matching the Hatch: four different bugs will do.
Hours:
Visit our website
for dates and times
Phone:
208.726.5282
Email:
info@silver-creek.com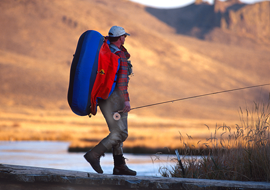 ---
Preseason Two-Day Introduction to Fly Fishing
This weekend class covers the basics, including casting, knot-tying, equipment selection, fly selection, trout food and real-time experience fishing local waters.
Location:
Silver Creek Outfitters in the Sun Valley Village
Hours:
Visit our website
for dates and times
Phone:
208.726.5282
Email:
info@silver-creek.com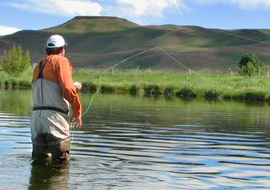 Kids' Fishing Adventures
Introduce your child to a sport for a lifetime. We offer two opposites for children between the ages of five and twelve.
Kids' Fly Fishing
Taught by Silver Creek Outfitters' professional guides, this class is designed as an introduction to fly fishing for ages 9 to 14. Students will learn the fundamentals of fly fishing with an emphasis on hands-on experience. To accommodate busy summer schedules, classes will be held any day of the week with a minimum enrollment of 2 kids.
Kid's and parents will meet with guide(s) at Silver Creek Outfitters at 8:30am. Maximum of 4 kids per guide.
Includes transportation, drinks and a snack provided, flies and the use of fly rod and reel; unless you prefer to use your own.
Hours: Visit our website for dates and times
Phone: 208.726.5282
Email: info@silver-creek.com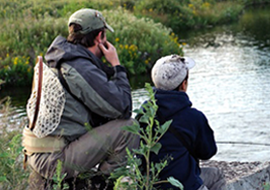 Equipment Rental
Silver Creek Outfitters carries a full line of high quality rental equipment. Please call or stop by to reserve whatever you need. Or reserve your equipment online!
Phone:
208.726.5282
Email:
info@silver-creek.com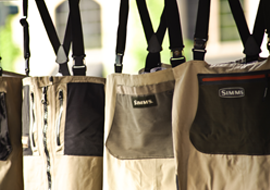 Prices

Fly Rod and Reel - Sage graphite fly rod, reel and floating line
 
$25.00 per day (20% discount for five or more consecutive days)
Waders & Boots - Gore-Tex waders with wading shoe
 
$25.00 per day (20% discount for five or more consecutive days)
Steelhead Fly Rod and Reel - Sage graphite fly rod, reel and floating line
 
$30.00 per day (20% discount for five or more consecutive days)
Waders - Goretex
 
$15.00 per day (20% discount for five or more consecutive days)
Wading Boots - Goretex
 
$10.00 per day (20% discount for five or more consecutive days)
Float Tube & Fins – Buck's Bags
 
$10.00 per day (20% discount for five or more consecutive days)
Fins
 
$10.00 per day (20% discount for five or more consecutive days)