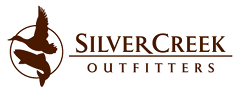 Imagine, Explore, Fish
Sun Valley is surrounded by many of the finest and most breathtaking trout streams in the world. And a stop at Silver Creek Outfitters puts the majesty of these waters at your fingertips. Silver Creek Outfitters, a tradition in the Wood River Valley for more than 45 years, evolved from a small fly shop to the highly respected retailer and outfitter it is today. By providing the best guides in the business, a highly knowledgeable retail staff and the finest gear in the industry, the store creates lifelong memories for fishermen of all abilities and offers an unparalleled customer experience.
Whether you are visiting and want to fish with the best guides in the area, or simply need advice on the latest hatch or a new rod, Silver Creek Outfitters takes care of all of your needs. Additionally, the fly shop supports a travel department that specializes in booking excursions to the best fishing locations on the planet.
A true Sun Valley destination, not just a store, Silver Creek Outfitters also boasts a library complete with the most important fly fishing titles, a beautiful selection of unique gifts and artwork, and clothing and accessories appropriate for a day on the river or a night on the town.
"We invite people in our home here, we want to share our love for this place with you" said Terry Ring, owner of Silver Creek Outfitters. "We realize that customer service is not what we think it is, but what the customer perceives it to be. We continuously strive to provide the highest level of service possible."
This level of personal attention, devotion to detail and tradition are what set Silver Creek Outfitters apart. For more information about the store, to inquire about special events and sales, to see our hatch charts or to subscribe to the weekly Fishing Report, please log onto www.silver-creek.com.
* Silver Creek Outfitters is a third-party partner and not affiliated with the Sun Valley Resort
Location: 500 N Main Street, Ketchum, ID 83340
Phone: 208-726-5282 or 800-732-5687
Store Hours: Hours change seasonally, so please visit our website for our current hours!
Email: info@silver-creek.com
Website: www.silver-creek.com
Casting Instruction
Dive in and give it a try! We invite you to take our first cast with us. Sign up for your free casting lesson or clinic. Then follow up with our Introduction to Fly Fishing class and learn all the basic skills you will need to succeed on the river.
Free Casting Clinics
Join a member of the Silver Creek Outfitters guiding team and learn to fly cast, or brush up on that double haul technique. Nightly casting clinics are offered to all who are curious or just a little rusty. Equipment will be provided but feel free to bring your own.
Location: Lawn in front of the Lodge
Hours: 5:30 – 6:30 every Tuesday through Saturday. Starts June 17th runs through Labor Day Weekend
Phone: 208.726.5282
Email: info@silver-creek.com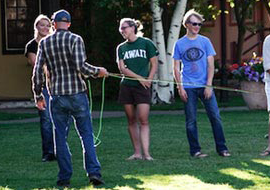 ---
Free One-hour Casting Lessons
Silver Creek Outfitters is committed to the spirit of fly fishing and wants all future anglers to have the opportunity to try casting or to learn new techniques at their convenience. We will extend a free one hour casting lesson to anyone interested in learning the art of fly casting. Team up with one of our certified casting instructors and learn the basics of fly casting or brush up on your roll cast, learn to double haul, or refine your loop - we're up for anything!
Location:
to be selected
Hours:
by appointment
Phone:
208.726.5282
Email:
info@silver-creek.com