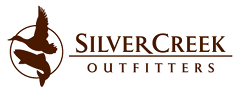 Imagine, Explore, Fish
Sun Valley is surrounded by many of the finest and most breathtaking trout streams in the world. And a stop at Silver Creek Outfitters puts the majesty of these waters at your fingertips. Silver Creek Outfitters, a tradition in the Wood River Valley for more than 45 years, evolved from a small fly shop to the highly respected retailer and outfitter it is today. By providing the best guides in the business, a highly knowledgeable retail staff and the finest gear in the industry, the store creates lifelong memories for fishermen of all abilities and offers an unparalleled customer experience.
Whether you are visiting and want to fish with the best guides in the area, or simply need advice on the latest hatch or a new rod, Silver Creek Outfitters takes care of all of your needs. Additionally, the fly shop supports a travel department that specializes in booking excursions to the best fishing locations on the planet.
A true Sun Valley destination, not just a store, Silver Creek Outfitters also boasts a library complete with the most important fly fishing titles, a beautiful selection of unique gifts and artwork, and clothing and accessories appropriate for a day on the river or a night on the town.
"We invite people in our home here, we want to share our love for this place with you" said Terry Ring, owner of Silver Creek Outfitters. "We realize that customer service is not what we think it is, but what the customer perceives it to be. We continuously strive to provide the highest level of service possible."
This level of personal attention, devotion to detail and tradition are what set Silver Creek Outfitters apart. For more information about the store, to inquire about special events and sales, to see our hatch charts or to subscribe to the weekly Fishing Report, please log onto www.silver-creek.com.
* Silver Creek Outfitters is a third-party partner and not affiliated with the Sun Valley Resort
Location: 500 N Main Street, Ketchum, ID 83340
Phone: 208-726-5282 or 800-732-5687
Store Hours: Hours change seasonally, so please visit our website for our current hours!
Email: info@silver-creek.com
Website: www.silver-creek.com
Classes
Dive in and give it a try! We invite you to take our first cast with us. Sign up for our free casting lesson. Then follow up up with one of our classes and learn all the basic skills you need to succeed on the river.

Private Spey Casting Lesson
Looking to expand your horizons and learn a new casting technique? Join our guides for a private spey casting lesson. So grab your buddy and hit the stream, you're sure to return a better fisherman. Steelhead season awaits...
Phone:
208.726.5282
Email:
info@silver-creek.com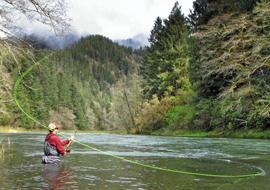 ---
Ready for Silver Creek?
The transition from the Big Wood River to Silver Creek may be easier than you think To get started there are just a handful of skill/knowledge elements needed - you may already have some:
Float Tubing: Cast in comfort
Dead Drifts: Produced with downstream slack line casts and a reach mend.
Matching the Hatch: four different bugs will do.
Hours:
Visit our website
for dates and times
Phone:
208.726.5282
Email:
info@silver-creek.com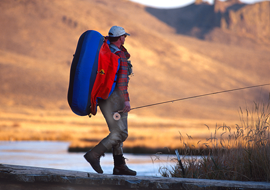 ---
Preseason Two-Day Introduction to Fly Fishing
This weekend class covers the basics, including casting, knot-tying, equipment selection, fly selection, trout food and real-time experience fishing local waters.
Location:
Silver Creek Outfitters in the Sun Valley Village
Hours:
Visit our website
for dates and times
Phone:
208.726.5282
Email:
info@silver-creek.com