Winter Sports Under A Summer Sun
Sleigh Rides
Scenic Sleighs
Nothing says winter fun like a cozy sleigh ride through the snow. Sun Valley offers half-hour rides on Wednesdays and Saturdays, starting at 10:45 am.
The rides tour the scenic area between the Sun Valley Inn and Trail Creek Cabin – known as the Trail Creek Golf Course in summer.

Reservations are a must – call 208-622-2135.
The 10:45 am sleigh rides depart from the Sun Valley Inn Lobby Lounge and are $24 per person.
Dinner Sleighs
A sleigh ride to Trail Creek Cabin for dinner has traditionally been one of the most memorable and fun Sun Valley winter experiences for the whole family.  Round trip scenic rides are available Tuesday through Saturday and nightly during the Christmas holidays and President's Week. Private bookings are also available.
For dinner at Trail Creek Cabin, horse-drawn sleighs leave the Sun Valley Inn at 6 pm, 7 pm and 8 pm for a family style dinner Tuesday through Saturday. The ride lasts about 1/2 hour. Dress should be warm and blankets are provided. Because of the wild popularity of the sleigh rides to dinner at Trail Creek Cabin, reservations are required.
Sleigh reservations should be made well in advance to ensure availability. Reservations should be made through the Sun Valley Recreation Center: 208-622-2135.
Weather permitting, sleighs will run mid-December through March.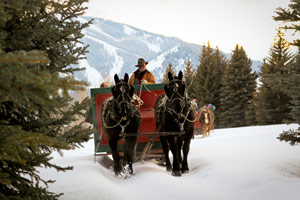 Dinner Sleigh Schedule:
Adult
Child
3 to 12 yrs.
Value Season (1/2/13 - 2/15/13 & 2/24/13 - 2/28/13)
$38.00
$29.00
Peak Season (12/20/12 - 1/1/13 & 2/16/13 - 2/23/13)

$49.00

$36.00

The purchase of a sleigh ride ticket confirms a reservation for dinner at Trail Creek Cabin.
Dinner is additional and is paid for at the cabin.

Plus tax and gratuity.
No charge for infants under 3 yrs. old.
Please call the Sun Valley Recreation Center (208) 622-2135 for holiday rates. 
Download:
Trail Creek Dinner Sleigh Menu 


Children's Sleigh Menu 


Location: Trail Creek Cabin
Phone: 208-622-2135 Sports & Recreation Reservations
recreation@sunvalley.com