A Car(e) Free Vacation
Getting Around
Getting to the Lifts and Around Town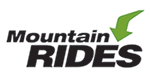 Sun Valley is a complete walking village, where automobiles are unnecessary. Condominium units are located within easy walking distance of the Sun Valley Village, but complimentary bus service is also available. The Mountain Rides Transportation Authority system provides free transportation throughout the Wood River Valley, including continuous round trips from the Village to both Dollar and Bald Mountains and to the town of Ketchum and Elkhorn Springs.
Schedule through March 31
The Blue route serves downtown Ketchum, Warm Springs, Sun Valley Village, and Elkhorn Springs. It currently runs every 30 minutes from 7am to 9:30pm and hourly 10pm to 12:50am.

The Red Route serves Elkhorn Springs, Morning Star, Twin Creeks, River Run Plaza, and Ketchum. It runs hourly from 8:30am until 4:55pm. The Red Route will run every 30 minutes until 3pm and hourly until 5pm.

The Green Route serves downtown Ketchum, West Ketchum, River Run Plaza, St. Luke's Hospital, and the Meadows. It currently runs hourly from 7:00am until 6:00pm.

The Bronze Route serves Sun Valley Village and Warm Springs via Saddle Road. It runs every 30 minutes from 8:30am until 3:30pm.

The Silver Route serves Sun Valley Village and River Run Plaza plus has a connection to Dollar Mountain. The Silver Route runs every 15 minutes from 8:00am until 6:26pm.

Mountain Rides provides daily service Northbound and Southbound to Hailey and Bellevue with a fare required.
The Valley Route serves Bellevue, Hailey, Ketchum, and Sun Valley. It currently runs every 30 minutes during the peak commute time, hourly midday, and limited late evening trips Monday through Friday 5:50am to 9:50pm. On Weekends and Holidays the Valley bus runs every 2-3 hours from 6:35am to 7:50pm.
The Hailey Circulator Route serves downtown Hailey, Community Campus, St. Luke's Hailey Clinic and Friedman airport and Woodside plus deviations to the Senior Connection. It currently runs hourly from 8am to 12pm and 1pm to 5pm Monday through Friday only. There is no holiday or weekend service.
For more information visit www.mountainrides.org