Transport To The Sun
By Air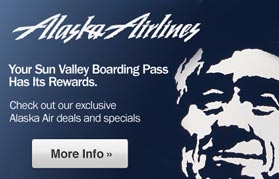 Sun Valley is served by Hailey's Friedman Memorial Airport  (SUN). It's located 14 miles from the resort and is easily accessible from the gateway cities of Seattle (SEA), Los Angeles (LAX), and Salt Lake City (SLC). These cities are served by most major airlines and are met by Sun Valley's two connecting carriers: Alaska Airlines (Horizon Air) and SkyWest (Delta Connection).
In addition, Alaska Air now offers daily direct, nonstop flights between Sun Valley and Los Angeles and Seattle, putting west coasters just a few hours away from Sun Valley.
SkyWest (Delta Connection) offers multiple times daily to and from Salt Lake City, UT to Friedman Memorial Airport.
Sun Valley Resort offers a complimentary guest resort shuttle for transportation from/to Friedman Memorial Airport and the Sun Valley Resort.
By Bus or Shuttle 
Daily shuttle service between Boise Airport (BOI) and the Sun Valley Lodge via Sun Valley Express. 

Advance tickets may be purchased by calling Sun Valley Express at (877) 622-8267 / (208) 622-8267 or going online to www.sunvalleyexpress.com.  Tickets also may be purchased on the bus at time of departure on a space available basis.
Rental Cars 
For those who may wish to strike their own path, rental cars are available in the gateway cities as well as in Sun Valley.
Those wishing to drive from Salt Lake City, Boise, Twin Falls, Idaho Falls or Pocatello can pick up an Avis Rental Car at the airport and it can be dropped off at Sun Valley Resort with with special one-way rates.  For the return trip , Avis cars may be picked up at Sun Valley Resort and be returned to the airport with special one-way rates.  Avis cars can also be rented at Sun Valley Resort for day-trips.
For more information, please contact Avis directly at (208) 788-2382 or email your request to avis@sunvalley.net Cars from Avis, Hertz, and Budget may be rented and dropped off at Friedman Memorial Airport in Hailey, Idaho, 14 miles south of Sun Valley Resort.
Ride Share
Idaho Ride Share is a free, ride matching website that over 1,000 Idahoans use to carpool or vanpool to their destinations and it's growing. visit www.idahorideshare.org for more information.