Weddings
The perfect beginning to your "Happily Ever After."
Whether you envision your special day as a quiet retreat in the mountains, or a celebration as spectacular as the setting, Sun Valley's wedding services can help bring your dream wedding to life. We offer a number of wonderful locations both indoors and out that add an unmistakable natural beauty to your occasion.
From private weddings for two to parties of 500, we can can coordinate and cater your special event. And whether you need a few ideas or just need someone to bring your vision to life, Sun Valley's attentive expert staff is waiting to make your special day an unforgettable occasion.


Wedding & Special Event Information
Wedding & Special Events Coordinator:
Megan Gergen
208.622.2101
weddings@sunvalley.com
 
Duck Pond Lawn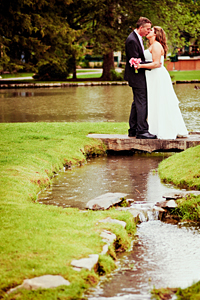 The Duck Pond Lawn, located in the heart of the Sun Valley Resort, is the perfect location for an intimate ceremony and reception.  A breathtaking view of Dollar Mountain, majestic fountains, and peaceful swans makes this romantic setting one you and your guests will never forget.
Availability
The Duck Pond Lawn is available to rent June through October. 
Rental Fee
The rental fee for the Duck Pond Lawn is $1,500.00 plus 8% tax.*
* 25% of the event's total anticipated revenue is due at the time the reservation is made as a nonrefundable deposit. Reservations are not guaranteed until the deposit is received. Rental Fee Pricing valid through December 31, 2013.
Sun Valley Company venues and facilities may be reserved for wedding ceremonies and receptions within 12 months of the date you wish to reserve. Prior to 12 months, names are added to a waiting list on a first come first serve basis.