Weddings
The perfect beginning to your "Happily Ever After."
Whether you envision your special day as a quiet retreat in the mountains, or a celebration as spectacular as the setting, Sun Valley's wedding services can help bring your dream wedding to life. We offer a number of wonderful locations both indoors and out that add an unmistakable natural beauty to your occasion.
From private weddings for two to parties of 500, we can can coordinate and cater your special event. And whether you need a few ideas or just need someone to bring your vision to life, Sun Valley's attentive expert staff is waiting to make your special day an unforgettable occasion.


Wedding & Special Event Information
Wedding & Special Events Coordinator:
Megan Gergen
208.622.2101
weddings@sunvalley.com
 
Trail Creek Pavilion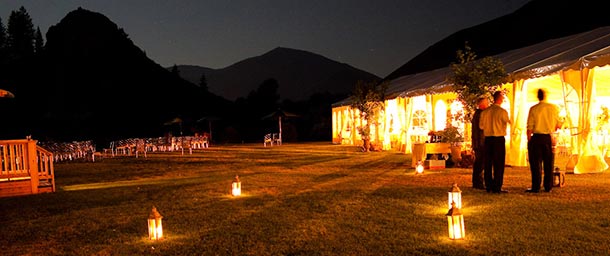 The Trail Creek Pavilion is located on the Trail Creek Cabin Lawn Area, with an incredible view of Bald Mountain. The Pavilion is an elegant outdoor venue, equipped with white liners, chandeliers, heat, french windows and a roman cobblestone floor. Trail Creek has been recognized as the "Valley's Best Place to Tie the Knot".
Availability
Trail Creek Pavilion is available in the summer only. The tent is usually erected at the end of May and stands until the third week of October (weather permitting).
Rental Fee
The rental fee for Trail Creek Pavilion is $8,000.00 plus 8% sales tax, and includes use of the Tent, the Pavilion Lawn, tables, chairs, dance floor, cocktail tables, restrooms, and the upper parking area. The rental fee also includes the set-up and tear down of the selected table layout. It's possible to rent Trail Creek Pavilion and Trail Creek Grounds, for a venue fee of $10,000.00 plus 8% sales tax.*
Capacity and Size of the Tent
Capacity: 340 people maximum
Main Tent Size: 50' x 120'
Extension Tent Size: 30' x 70'
Trail Creek Grounds
The Trail Creek Grounds are located next to Trail Creek Cabin, just over the bridge that spans the Cabin's namesake, "Trail Creek". Trail Creek Grounds offers a spacious grassy area for fun and games, brick-paved walkways and a patio area, picnic tables, a 5' open fire-pit, and rough-cut log bandstand…perfect for a genuine country hoe-down!
During the summer season, Western Barbeques on Trail Creek Grounds provide a fun and fitting end to an activity filled day in Sun Valley. Blue checked linen, western-style attire for the wait staff and hot, sizzling grills all add to the flare and flavor
of the evening.
Availability
Trail Creek Grounds are available seven days a week every during the summer season for day and evening functions.
Rental Fee
The rental fee for Trail Creek Grounds for is $4,000 plus 8% sales tax and includes the use of the Grounds area, picnic tables, restrooms and parking.*

Other Amenities
Historic Flattop Wagons for Buffets
Horseshoe Pits and Volleyball Nets (upon request)
Colorful Display of Annual Flowers in Pots and Baskets
* 25% of the event's total anticipated revenue is due at the time the reservation is made as a nonrefundable deposit. Reservations are not guaranteed until the deposit is received. Rental Fee Pricing valid through December 31, 2013.
Sun Valley Company venues and facilities may be reserved for wedding ceremonies and receptions within 12 months of the date you wish to reserve. Prior to 12 months, names are added to a waiting list on a first come first serve basis.