Transport To The Sun
By Air
Daily Non-stop Flights to Sun Valley from San Francisco, Seattle, Los Angeles and Salt Lake City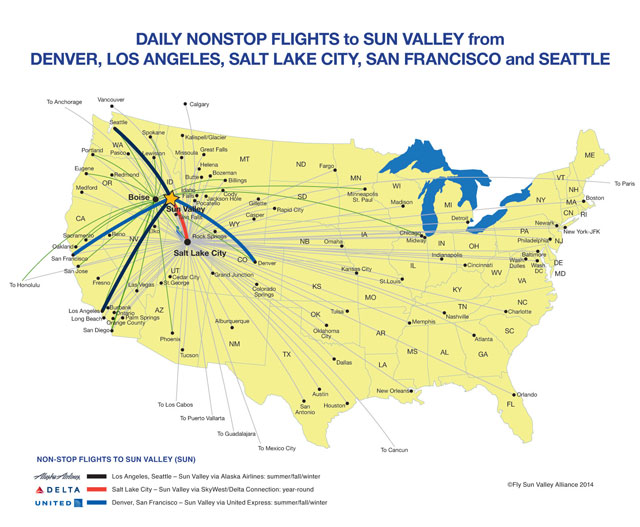 Los Angeles & Seattle via Alaska Airlines: summer/fall/winter

Salt Lake City via SkyWest/Delta Connection: year-round
San Francisco via United Express: summer/fall/winter
Summer flights: July 2 – September 23, 2014
Denver via United Express: summer
Summer flights: July 2 – September 23, 2014
Sun Valley is served by Hailey's Friedman Memorial Airport  (SUN). It's located 14 miles from the resort and is easily accessible from the gateway cities of San Francisco (SFO), Seattle (SEA), Los Angeles (LAX), Salt Lake City (SLC) and Denver (DEN - summer 2014). These cities are served by most major airlines and are met by Sun Valley's connecting carriers: Alaska Airlines, Delta Connection (Operated by SkyWest) and United Express (Operated by SkyWest).
Sun Valley Resort offers a complimentary guest resort shuttle for transportation from/to Friedman Memorial Airport and the Sun Valley Resort.
Your Boarding Pass Has Its Summer Benefits.
Exchange your boarding pass for free putting, range balls & gondola rides.
Everyone flying to Sun Valley Resort on
Alaska Air direct flights from Seattle and Los Angeles or
United Airlines flights from San Francisco and Denver
can exchange their Boarding Pass for a free gondola ride*, putting on the 18-hole Sawtooth Putting Course and a free bucket of range balls. The offer is good any day of your stay.
Show your Boarding Pass for the gondola ride at the River Run Ticket office and at the Sun Valley Club's Pro Shop to receive your complimentary round of putting and a bucket of balls for the Driving Range.
*Gondola service starts June 21 and runs through September 7, 2014
---
5,000 Bonus Miles!
Fly 2 round trips to select destinations including Sun Valley and receive 5,000 Bonus Miles!
---

Daily Nonstop Route - Salt Lake to Sun Valley
CRJ 700 jet service runs daily.
Book a Flight  on Delta.com
---

New Nonstop Route - San Francisco to Sun Valley
The new jet service runs daily from July 2 through September 23 for the 2014 summer season.
The flight schedule during summer season is:
SFO 5:30 pm --> SUN 8:21 pm
SUN 8:33 am --> SFO 9:29 am
New Nonstop Route - Denver to Sun Valley (summer 2014)
The new summer flight will run daily from July 2 – August 25 and 5 times per week from August 26 – Sept 23 and represents 5500 additional seats into Sun Valley for the 2014 summer season.
The flight schedule during summer season is:
DEN 7:15 pm --> SUN 9:03 pm
SUN 7:30 am --> DEN 9:11 am

---
Rental Cars 
Cars from Avis, Hertz, and Budget may be rented and dropped off at Friedman Memorial Airport (SUN) in Hailey, Idaho.
Avis cars can also be rented at Sun Valley Resort for day-trips. Please contact us by calling: 208.622.2097 or by sending an e-mail to concierge@sunvalley.com.