When we last checked in with our pack of fabulous furry mountain friends on Sun Valley's Avalanche Search Dog program and their Ski Patroller partners they were busy playing in the snow and training hard for their validation and certification tests.
From February 27th to March 4th, three Sun Valley teams, Mollie McLam and her dog Maverick, Nicole Jorgenson and Diesel, Hailey Hagerty and Ripley, along with Sarah Linville and Blaze traveled to Tamarack Ski resort to take part in a training course taught by the Colorado Rapid Avalanche Deployment (C-RAD) organization.
"We all learned a lot," says Sarah, "met some great people in the Idaho emergency response community and just really enjoyed ourselves." The culmination of this training program took place on March 4th, when Hailey, Mollie and Sarah requested a validation test, administered and evaluated by the instructors and experts from C-RAD. The validation test is a benchmark for avalanche search dogs and their trainers that examines the multitude of skills, commands and abilities needed to become working members of the Ski Patrol team and able to be deployed should an emergency situation ever arise. "I'm happy to report that all three teams passed the test," Sarah says, "I'm so proud of all of them and our team, it takes a lot of hard work to get the dogs ready for this test and helps us feel good about the time, training exercises, and commitment of everyone involved."
Earlier in February, these same three teams took and passed a similar test for the Blaine County Sheriff's Department. "The goal of taking that test." Explains Sarah, "was introducing the dogs and their handlers to our local search and rescue response system so we can assist in search and rescue efforts around Blaine County if needed."
Nicole and Diesel, along with Kent May and his puppy Wally are still considered "in-training," which was always the plan for the two youngest members of the squad. "K-9 search teams never stop training," Sarah explains, "so while we're excited to have two new teams validated and ready to go, we'll still be working with the dogs everyday as the training and validation standards continue to increase."
With all the members of Sun Valley's very own Paw Patrol besides Blaze and Sarah being new to Baldy, we wanted to ask each of them to tell us a little about their experience this season.
Kent May and Wally
"Wally is now nine months old. Between riding lifts and snowmobiles to safely skiing down the mountain (and hopefully not trying to chase other skiers), every day is a training day for us" Keith says. "Wally progressed this year from simple run away drills (think hide and seek for puppies), to finding two buried subjects with walls of snow keeping him from the reward they have which made me really proud of him and Wally is on track to validate next winter."
"I would like to thank all of the SV Ski Patrol for helping with all the avalanche dogs and their training. It truly takes a village to raise and train a high performing avalanche dog. Secondly, thanks to Sarah Linville, who has done an awesome job organizing our group of working dogs and handlers. Lastly, our supervisors, training officer, and all the management at Sun Valley. The amount of support it takes for a successful avalanche dog program is monumental."
Mollie McLam and Maverick
Hailey Hagerty and Ripley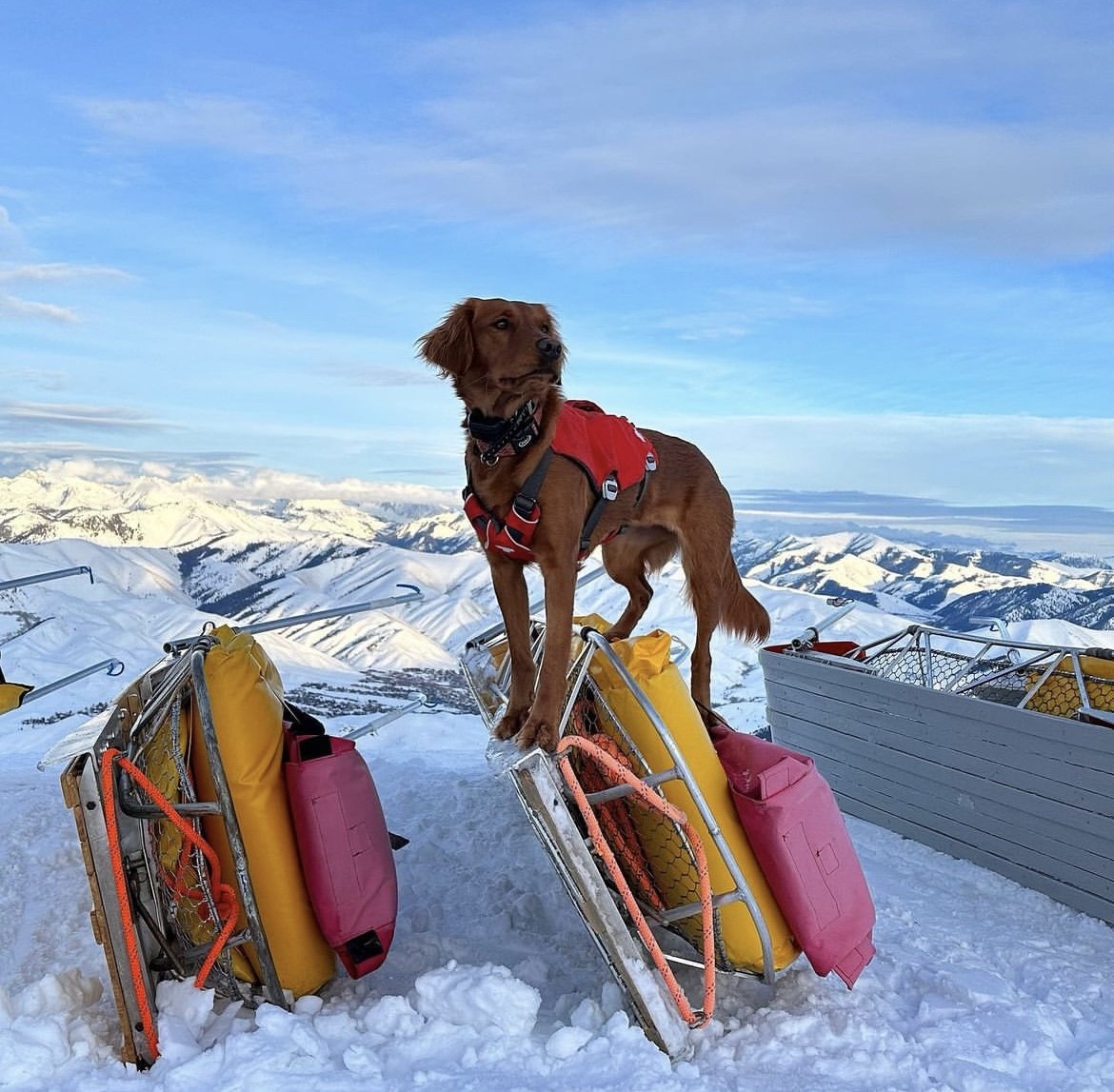 "Ripley has had an amazing season joining the Sun Valley Avalanche dogs and we trained several times a week to build these dogs ability to be the best avalanche reach resource they can be." Hailey says. "Ripley received his Blaine County Avalanch certification and was validated through Colorado Rapid Avalanch Deployment, both of which were our major goals for the season
"All of these dogs success are really attributed to the Sun Valley Ski Patrol and everyone's support. Training these dogs is a team effort and we could not do it without Ski Patrol's support. I love that every single patroller we have on the squad cares about the success of our avalanche dogs and all the work has really paid off. The dogs are prepared day and night to be deployed for a search in avalanche terrain, and we as a community are lucky to have them."
Nicole Jorgenson and Diesel
"For Diesel's first season working on Baldy, we focused on getting used to the everyday parts of the job like riding lifts and skiing various transportation methods to different parts of the mountain," Nicole explains, "Throughout the season we worked on various search drills that were meant to hone in on the drives that compel Diesel to want to search for people, and he received lots of reward when he succeeded!"
"Diesel and I were also extremely lucky to get to attend dog school in Tamarack where we were exposed to lots of training methods and other dog teams from the region. We look forward to continuing to play search games this summer and getting back in the snow next season."
With a total of five teams, three of which are validated avalanche search dogs, the future of the Sun Valley Avalanche Search Dog program is bright. "Five dogs is a lot for any resort," Sarah explains, "so as long as these five are here to stay, we're not interested in additional members, at least for the near future." Now that they've got their team in place and the training tactics and exercises are starting to take hold it's all about developing the younger dogs and keeping the working dogs tuned up and ready to help. "My goals for springtime include enjoying the spring skiing we're sure to get," says Sarah, "and waiting for the snow to melt and fill the rivers for some high-water fun."
So what do Sun Valley's avalanche search dogs do during the off season when the snow melts? Well, for Blaze and Sarah they head to the river. Sarah works as a river guide so Blaze spends most of his summer up in Stanley with Sarah's husband ,(TK NAME). "They keep the training going throughout the summer months by building agility courses in their front yard, playing search games on the trails, and spending lots of time swimming in the mountain lakes around Stanley."
It's safe to say this season has been a resounding success for the Sun Valley Avalanche Search Dog Program. It grew from one to three validated teams, with five excellent dogs and handlers. "The support from all the other patrollers and the Sun Valley Company in general has been overwhelming and hugely appreciated," says Sarah, "I am really looking forward to further strengthening our program and continuing to support the goals of my fellow dog handlers."